Indian women across geographies and from different walks of life are on the frontlines of the fight against the Novel Coronavirus pandemic. With the rampant spread of COVID19 continuing to cripple the world, Air India pilot Swati Raval, Indian American Dr. Nita Patel, Indian-origin Miss England (2019), virologist Minal Dakhave Bhosale, film actress Sikha Malhotra and a few others have uninhibitedly responded to the call of duty during the unprecedented health crisis. They are not only responsible citizens, but also committed #Coronawarriors having a mutual objective of serving the humankind at this juncture.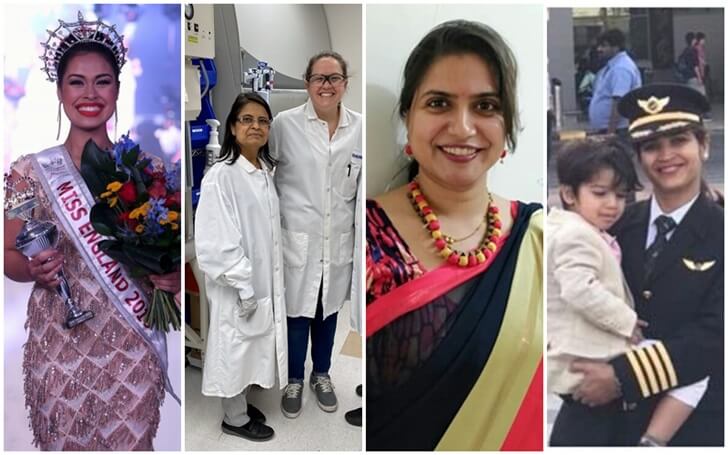 Kolkata-born Miss England Hangs Crown to Work as Doctor
Indian-origin Bhasha Mukherjee who was titled Miss England in 2019 has hung up her crown to resume her work as a junior doctor and treat COVID19 patients in the UK. After the Miss World 2019 pageant was over, she went on a global charity spree as an ambassador of several nonprofits. Early in March this year, Bhasha Mukherjee was in India for humanitarian work at some schools and an NGO for abandoned children. She was supposed to be focused on the charity work till August 2020, but she felt an urge to return to work and put the stethoscope back around her neck as the UK continues to suffer from the Novel Coronavirus pandemic. Nearly 50000 positive cases and 5000 deaths from COVID19 have been reported in the UK. Bhasha Mukherjee had moved to England from Kolkata when she was 9 years old.
Indian American Dr Nita Patel Works on COVID19 Vaccine
Among the global efforts towards developing vaccines for COVID19 is an all-women team of scientists led by Indian American Dr. Nita Patel in Maryland, USA where over 4000 people have contracted the life-threatening virus. A director for vaccine development and antibody discovery at Novavax, Dr. Nita Patel has tirelessly been driving her female team to develop a viable vaccine for the Novel Coronavirus. The Novavax team has entered into the second phase wherein the vaccine is being tested on animals.
Minal Gives India its First COVID19 Testing Kits during Pregnancy
Among the few women on the frontlines of the fight against COVID19 in India, virologist Minal Dakhave Bhosale took the challenge of developing India's first COVID-19 testing kit, and she succeeded in creating it just a day before delivering her baby. Since the first few cases of Novel Coronavirus were reported in India, the country had been under serious criticism for not having sufficient testing kits. But, on March 26, the country saw a ray of hope when Mylab Discovery, a Pune-based diagnostic company, successfully manufactured the first Coronavirus testing kits and got the approval to sell the kits. Minal led a team of virologists and successfully managed to make the testing kits in a record time of 6 weeks. She was in the last lap of pregnancy when she and her team started working on the project. On March 18, a day before delivering her daughter, she submitted the testing kits for evaluation to the National Institute of Virology.
Aarti Madhusudan of Chennai Helps Daily Wagers amid Lockdown
Like few other responsible citizens, Aarti Madhusudan of Chennai has helped more than 200 laborers in Tamil Nadu with a supply of daily essentials amid the COVID19 lockdown. Earl this week she got a call from nowhere and felt distress in the voice of the person of the other side. He was a daily wage worker from Jharkhand. She noted his location and managed to send him some food items for his family. Aarti did not stop there. Using her social media network in the last few days, she procured basic commodities for over 200 daily wagers in and around Chennai.
Mahita Nagaraj Volunteers Doorstep Delivery to the Elderly
The countrywide COVID19 lockdown has left many elderly people helpless in India, especially when their children and other family members are away. Mahita Nagaraj of Bengaluru offers voluntary doorstep delivery of grocery items and medicines to the elderly, who live alone, during the lockdown. It all started when two of her friends, one in the USA and the other in the UK, called and requested her to send some basic commodities and essential medicines to their octogenarian parents in Bengaluru. She started a public group of volunteers on Facebook and named it 'Caremongers India.' In a matter of a few days, the initiative for voluntary service to the lone elderly in emergency gained momentum in other parts of Karnataka as well as in other states.
Film Actress Shikha Malhotra Volunteers as Nurse
We see the best and the worst of people only in difficult times. In a first of its kind, an Indian film actress came forward to volunteer as a nurse in a Mumbai hospital and fight against the Novel Coronavirus pandemic. Shikha Malhotra, an actress and costume designer, who is well known for her work in "Kaanchli Life in a Slough" and "The Unseen", has started volunteering as a nurse in Mumbai to help the COVID-19 patients recover. Only a few know that she has a degree in nursing from Delhi's Vardhaman Mahavir Medical College and that she had interned at Safdarjung Hospital. Shikha Malhotra wrote on Instagram, "This time I need all of your support to serve the nation once again. I am always there to serve the country as a nurse and an entertainer."
This exclusive story by Travel Beats, a leading overseas Indian community portal, is a tribute to Indian #Coronawarriors. Travel Beats is a subsidiary of Indian Eagle Travel, a most trusted air-ticketing partner of Indians in the USA.