She would start her day early in the morning. She would leave for college by 9 am. She would come back to her dorm room early in the afternoon and do her homework the same day. She religiously followed a tight schedule to accomplish her academic goals. Her primary goal was graduation with a good GPA in four years.
One morning in the fall of 2004, her world turned upside down; her everyday life was thrown out of gear; her goals seemed to be far-off when she woke up with blurry vision in her left eye. It eventually pulled down a pall of complete darkness over her world. Permanent blindness slowed down her pace of life for a while, but did not become a stumbling block. Rather, she journeyed from darkness to light with a never-say-die attitude – which makes an inspiring story to read and share.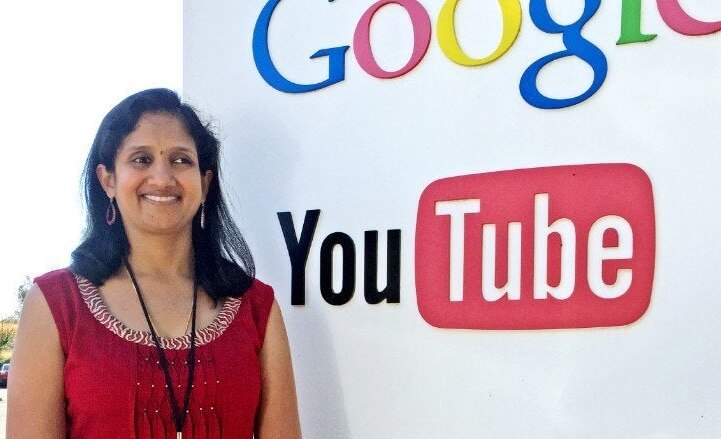 She is Jyotsna Kaki who has made it big at Google and has got an award named after her by her alma mater, San Jose State University. She had not only lost her vision, but also her confidence and independence. With every dark tomorrow passing into a yesterday, she moved towards discovering light within herself, regaining her independence, and reviving her zest for life.
Jyotsna Kaki was diagnosed with a benign tumor in the brain when she was in India. She grew up with the tumor slowly building up near the optic nerve. She had normal childhood and schooling like every other person of her age. When she was a senior attending college at San Jose University, her eyesight started getting weaker. Her parents took her to a doctor only to learn that an emergency surgery was the only option. Her optic nerves were traumatized during the surgery – which, in turn, took away her vision forever.
The sky came crumbling down for her when she opened her eyes to see nothing after the surgery. But her focus on the goals, her sense of discipline, and her urge to stand up again brought her life back on the track. While trying to be independent again, she realized that she could manage almost everything she used to do while having eyesight, except driving. On being asked what change the permanent visual impairment brought to her life, she shrugged it off with a smile.
She was so determined to lend herself a new lease of life that there was little room for despair or inertia within or outside her. She started learning braille, taking mobility training, and using accessibility technology, such as screen readers. On top of that her parents' love and her brother's support have been instrumental in her recovery and journey towards light. "I got back to college within two months of the fateful incident. Keeping myself busy definitely prevented me from slipping into depression. Not taking a break helped me normalize my everyday life after the surgery," she said in a neutral tone. She got a job at the disability resource centre in her college where she experienced the testing of accessibility software. Later, that experience served as foundation of her career at Google.
You might be wondering how Jyotsna Kaki cracked the interview at Google. Was it more difficult for her to make her way into Google than it is for others? Though her confidence was low, she got through the interview procedure at Google, as it is said, "Fortune favors the brave". She prepared for the interview by researching online on accessibility technology. She tried to gain as much knowledge as possible and practiced by performing accessibility testing of various products out there. "Even after the interview, I had no expectations that I would get a job at Google," Jyotsna said to Travel Beats. In October 2006, Google hired her as a software accessibility test engineer.
Also Read: Indian-origin Google employee offers STEM scholarship to girls
The beginning of her journey with Google was more challenging than the interview because she was one of the first accessibility testers there. She tested Google products for the visually impaired and people with other disabilities, using screen readers. Initially, she had to figure out what she was supposed to do, prove the worth of her work to others, and convince her managers what she was doing was useful. Fortunately, she joined the search giant with prior knowledge and experience of testing accessibility software in the college campus.
Kaki always desired a job wherein she could do something to help others. Today, she is a program manager for Google's central team of accessibility test engineers. The accessibility team has built a number of assistive technologies such as Voice access, Switch access, action blocs, ChromeVox, Talkback, etc. Her heart goes out to over 18 million visually impaired people in India. "It is definitely sad and unfortunate that accessibility technology from the developed countries has not yet reached many of them. I would say that the Indian government is also not so helpful in providing appropriate assistive help to them. In countries like the US, various programs are there to help individuals with disabilities who cannot afford assistive technology. But in countries like India, many individuals find it difficult to afford the appropriate hardware that any of the assistive technologies requires," Kaki opined.
Jyotsna Kaki was aptly rewarded for her academic excellence by her alma mater, San Jose State University. When she was graduating in 2006, the chair of the college instituted a new award and named it after her in recognition of her efforts beyond the normal capability. The award is given to the students who academically excel every year. She had also received the 'outstanding student' award in 2005.
She still starts her day early in the morning and goes to bed in the night with the satisfaction that her work is helping many visually-impaired individuals regain independence. She keeps her weekends free of work to spend quality time with her husband and daughter. When asked what she would have been if not a program manager. She replied that she would have been running a daycare centre, as she is fond of kids. Facing the inevitable with confidence and courage is the secret to being happy – a multimillion dollar lesson that her life story has for others.
This exclusive story is brought to you on the occasion of #WomensDay2022 by Travel Beats, a leading community portal for Indians in America. Travel Beats is a subsidiary of Indian Eagle, a most trusted air-ticketing partner of Indians for travel between the US and India. Subscribe to our newsletter for the latest Indian community news and stories from the US.