Needless to say, airlines protect flights with rigid cancellation policies. What most air travelers know is that the US Department of Transportation's 24-hour free flight cancellation law is the only way to avoid paying airline penalty for flight cancellation or change. Though airlines comply with the Department of Transportation's rules for free flight cancellation within 24 hours of booking, the 24-hour window falls short at times, and some travelers end up paying a hefty airline penalty for cancelling reservation post 24 hours of booking.
Further, if business class air tickets are canceled outside the DOT's free cancellation window, the airline penalties for cancellation of business class flights blow a hole in one's wallet. Here's how you can avoid paying airline fees for flight cancellation post 24 hours of booking: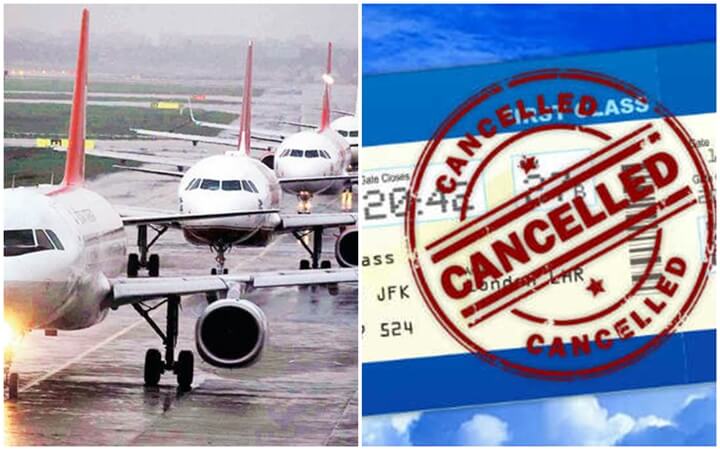 Do you know you can cancel nonrefundable airline tickets beyond the 24-hour window of free cancellation, and get refund against cancellation without paying any airline penalty? You don't have to adhere to the US Department of Transpiration's 24-hour flight cancellation law if you happen to purchase an air ticket on Friday. In this case, the free cancellation window extends until Monday night. If Monday is a national holiday (fortunately), the DOT's free cancellation hour could further be extended until Tuesday night.
You may not be entitled to the weekend-long grace period for free flight cancellation if the onward flight is scheduled to depart within seven days from the time of booking. Notably, the weekend-long grace period is not among the DOT rules and regulations for airlines. However, you may be eligible for it depending on airline, flight schedule, ticket type and fare rules.
Do make sure to check whether your chosen itinerary is eligible for the weekend-long grace period for free cancellation while booking it on Friday on IndianEagle.com or any other portal.
American Airlines' 24-hour-hold reservation policy is one of the few secrets to cancelling nonrefundable flight tickets for free. You might not be aware that American Airlines is the only US carrier to let travelers hold seats and fares for 24 hours, and that too without payment in case of booking prior to seven days of onward travel. Notably, American Airlines' 24-hour-hold-your-reservation policy is available on select flights marketed and operated by the airline itself.
Suppose, you are unsure about your travel plans despite the availability of cheap American Airlines tickets to India. You can either pay and hold the fare or hold the fare without payment for 24 hours. The seat will be automatically released from 'hold' if you don't complete the purchase in or after 24 hours. In case you pay the fare but forget to select the hold option for your reservation, the benefit of American Airlines' 24-hour-hold policy will be denied to you. As a result, you won't be able to cancel or change the reservation for free.
Also Check: Visa Rules for Indian Passport with Improved Ranking in 2019
You can choose to pay to hold your cheap fares for American Airlines flights to India or some other destination for an extended period of time. Payment for the 'extended hold' option is not refundable. Do make sure to check whether you can opt for American Airlines' 24-hour-hold-reservation policy while dealing with Indian Eagle Travel or any other travel booking agency.
While most US airlines comply with the Department of Transportation (DOT) guidelines for free flight cancellation within 24 hours, only Delta Airlines allows free cancellation of reservation post 24 hours from the time of purchase. Not all cheap Delta flight tickets are eligible for free cancellation by midnight the day after purchase. You can change or cancel your reservation for free post 24 hours of booking only in case of qualifying eTickets for refundable Delta flights originating in the United States. However, Delta's after-24-hour-risk-free cancellation policy may vary depending on itineraries.
There are other ways you can cancel your reservation, refundable or non-refundable, post the airline's 24-hour free flight cancellation window and get a full refund without paying the airline penalty. If airlines make a significance time change to itineraries delaying departure or arrival, you can request cancellation of your reservation and full refund against it. If a shift of 61 minutes or more in the schedule of United Airlines flights shortens or increases the connection time significantly to your discomfort, you can choose to opt for flight cancellation and request a refund even if the airline will try to accommodate you on an alternate flight.
If the departure or arrival schedule of Delta flights changes by 90 minutes or more not in keeping with your travel plans, you can request a partial refund for the unused segment of your itinerary or a full refund for the unused ticket. In case of changes to the schedule of American Airlines flights by 61-120 minutes, you can get refund in the form of a travel voucher to be redeemed towards a new reservation on American Airlines. You can request a full refund against cancellation to the original form of payment in case your flight schedule changes by 120 minutes or more. In the event of any schedule change to American Airlines flights, refund of the fare in any form is subject to the airline's approval.
Also Check: India's New and Upcoming International Airports
Please note that air ticketing agencies or online travel booking portals' service fee for flight cancellation or change applies within and outside the DOT's 24-hr window of free cancellation and modification. Such terms as 'airline penalty (s)' and 'airline fee (s)' for cancellation of flight tickets mean the penalty or fee excluding the service fee levied by Indian Eagle Travel and other air travel booking agencies. Airlines' 'flight cancellation or change' policy is subject to change without a prior notice.