India is bracing itself for a war of CEOs in aviation, as two of the country's leading airline companies have roped in foreign aviation veterans for the hotseat – Chief Executive Officer. Within days of the Tatas having appointed Campbell Wilson from Singapore Airlines as the MD and CEO of Air India, IndiGo – the country's biggest airline in terms of the domestic market share that is close to 55% – surprised the industry with the news about hiring Pieter Elbers as its CEO.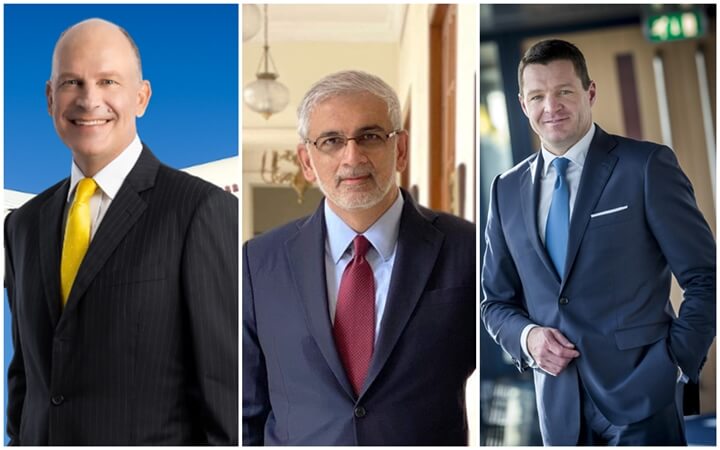 Both Air India's CEO and IndiGo's CEO are among the bellwethers of international aviation with impressive credentials. Campbell Wilson with 26 years of experience in Singapore Airlines and its low-cost subsidiary Scoot, will help the Tatas win back the trust of travelers in Air India. On the other hand, Pieter Elbers with three decades of experience in aviation will accelerate IndiGo's international expansion through codeshare agreement with some of the biggest global players. He has been the President and CEO of KLM Royal Dutch Airlines, the world's oldest operating carrier, since 2014. He is a member of the Air France-KLM Group's executive committee too.
Co-founded by one of the Indian-origin billionaires in America, IndiGo rose to prominence after India's first low-cost airline – Air Deccan – lost out to the emerging competition following the Great Recession 2008. Known for its highest average on-time performance at major Indian airports, IndiGo is on the cusp of post-pandemic growth through its codeshare alliance with American Airlines, Qatar Airways, and Air France-KLM. IndiGo feeds its foreign partners' India-bound traffic with seamless connectivity from international entry airports to 30 regional destinations, such as Tirupati, Vijayawada, Patna, Raipur, Rajkot, Ranchi, Hubli, Mysuru, Indore, Shirdi, Madurai, Imphal, Jodhpur, Agra, Kanpur, Varanasi and Kolhapur.
The flexing of IndiGo's foreign muscle – the only competitive edge over the formidable force that the upcoming merger of Air India and Vistara will create – will be continued as the airline is, reportedly, in talks with other international carriers including Qantas Airways of Australia for a codeshare deal. The credit goes to IndiGo's departing CEO Ronojoy Dutta, who recently told the Economic Times:
We have a great domestic position as you know. So, if an international airline is coming into Bangalore, 50% of those passengers are going to connect elsewhere. They'll go to Mangalore or Vizag on IndiGo, or to some other place. Who is better to carry them than IndiGo?"
He will hand over the reigns along with the responsibility of managing the codeshare alliances to IndiGo's newly appointed CEO Pieter Elbers, an aviation veteran with international business acumen, in September this year. Flying the airline to profitability and improving the airline's rollercoaster economics are the colossal challenges for the new CEO in view of IndiGo's 2022 March quarter loss that increased to Rs 1682 crore from Rs 1147 crore in the same quarter last year. Only time will show whether IndiGo's leadership transition from the home-grown talent to a foreign heavyweight will steer the business against the rising jet fuel costs and the weakening rupee.
Recently, Air India absorbed several senior-level employees from the key departments of Vistara into its leadership stronghold, ahead of CEO Campbell Wilson's taking to office on June 15. The onboarding of Sandeep Verma, who was Vistara's head of cabin crew, as the head of onboard services for Air India flights to international destinations is a strong indication at the potential merger of the two aviation behemoths under the same umbrella – Tatas. It seems that Air India's new CEO and MD has already jumped into the fray. He will be leading the C-suite to achieve such goals as fleet upgrade, cabin refurbishment, inflight service enhancement, on-time performance improvement, and expansion in the existing offshore markets, in order to transform the loss-making Air India into a world-class airline.
The impending war of CEOs in aviation will see Sanjiv Kapoor sitting at the controls of Jet Airways' planned take-off in the July-September quarter after being grounded for 3 years. Sanjiv Kapoor, who had started his career with Northwest Airlines in the US in 1997, has been roped in for the revival of Jet Airways from its tragic fall, with over 20 years of experience in the aviation and hospitality industry. A native of Kolkata and an MBA graduate of Wharton Business School, Philadelphia; Mr Kapoor led the growth of Air Vistara from 9 aircraft and 40 flights a day in 2016 to 38 aircraft and over 200 flights a day in 2019 as the airline's Chief Strategy and Commercial Officer prior to joining the Oberoi Group as President. His combined experience of playing pivotal roles in aviation and hospitality is being invested in as the wind beneath the wings of Jet Airways.
Mark Turner as Jet Airways' Vice President for inflight services, is one of the top-level appointments under the leadership of Sanjiv Kapoor. He will assume office at Jet Airways on June 15, with over 40 years of experience in senior management roles at Gulf Air, Emirates, Fiji Airways and Qatar Airways. It will definitely add to the thrust that CEO Sanjiv Kapoor will be needing to take Jet Airways back to the height where the airline was among the best for its private suites with closed doors, loyalty program, inflight entertainment, etc. Few people know that Etihad Airways looked up to Jet Airways for technical assistance before it started flying in November 2003.
"The entry of Akasa Air and Jet Airways with robust veterans is being expected to result in an airfare war. On the contrary, I concur with IndiGo's departing CEO Ronojoy Dutta that unlike before, Indian airlines will not engage in a pricing war as long as the jet fuel costs continue to be all-time high. We can only wonder when or whether the pressure of the rising ATF prices on airlines will show signs of abating. But there is one thing for sure – an impending war of Indian airlines' CEOs," said Sourav Agarwal, the Editor of Travel Beats, a subsidiary of IndianEagle.com, a leading international air travel booking agency.