With an ambitious project for new airports, domestic and international, for its aviation vision 2040, India is moving towards the goal – a trillion-dollar economy. India will have 190-200 functioning airports to facilitate air travel for 1.1 billion travelers, both inbound and outbound, by 2040. Of all the new and upcoming airports in India, Noida International Airport DXN is awaiting its inauguration in 2024, which the world is looking forward to for more than one reason.
Noida Jewar International Airport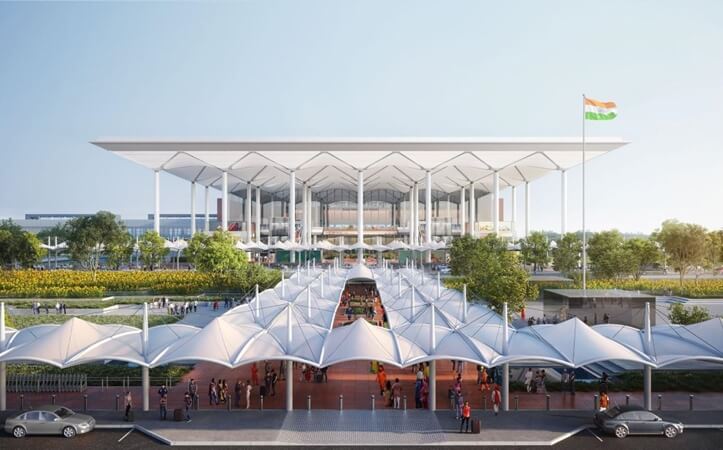 Jewar International Airport, which is under construction in Delhi-NCR, will not only take the passenger load off India's busiest New Delhi Airport but also become the largest international airport in the country by the end of its final phase construction in 2040. Below are some interesting facts about Jewar Airport, which recently got its IATA code – DXN, where D and N stand for Delhi and Noida respectively and X implies air connectivity. The three-letter airport geocode assigned by International Air Transport Association (IATA) signifies the role of Noida Airport DXN as the second aviation hub in the Delhi-NCR area.
Jewar International Airport, when completed by 2040, will have six runways and four terminals- the highest at any Indian airports. Some of the international operations will be shifted from Delhi IGI Airport to Noida Jewar Airport, considering the ever-growing number of flights to New Delhi from USA and other major countries. Jewar Airport will stand out with Uttar Pradesh's architectural aesthetics woven into its modern design, just as Chennai Airport's new integrated terminal has embodied cultural aspects of Tamil Nadu and its temple architecture.
Ganga ghats inspires Noida Airport terminal design
Located in Uttar Pradesh where the mighty Ganga River is not just worshiped as a deity but also an elixir of cultural life, Noida Airport is having its terminal inspired by the local architecture. The carbon-neutral terminal building to be beautified with indoor plants will have a sprawling courtyard designed like a haveli (mansion). The flight of steps in the terminal forecourt is being modelled on the Ganga River ghats in Varanasi and Haridwar. The design of the wavy roof of the forecourt will reflect the flow of rivers in the region.
The terminal of Nodia Jewar International Airport will have red sandstone flooring with close semblance to the red sandstone architecture of Fatehpur Sikri in Uttar Pradesh. Adding a touch of classic charm to the terminal building are reinterpretations of traditional jali designs (ornamental lattice screens) unique to the Mughal architecture.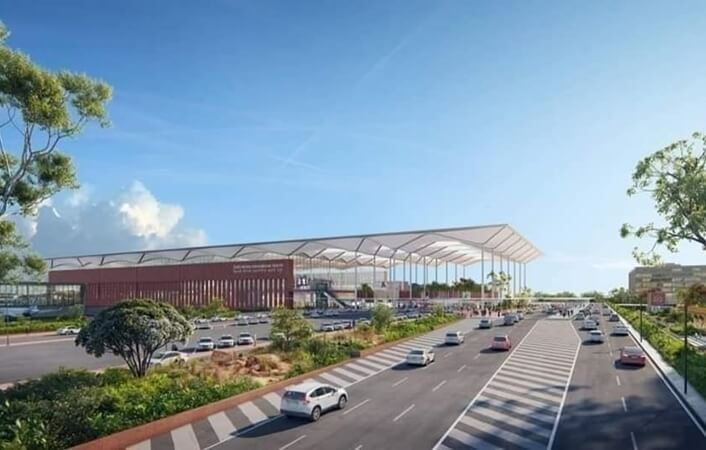 Jewar Airport location, traffic handling, bidding 
Zurich Airport International AG, a Switzerland-headquartered company, has taken the lead to build Noida International Greenfield Airport (JIA), by outbidding its competitors. Zurich Airport placed the highest bid of INR 400.97 per passenger while Anchorage Infrastructure Investments Holdings Limited offered INR 205 per passenger, Adani Enterprises Limited offered INR 360 per passenger and Delhi International Airport Limited offered INR 351.
Jewar in Gautam Budh Nagar district of Uttar Pradesh is the location of Jewar International Airport, 72 km from IGI Airport; 40 km from Bulandshahr; 48 km from Greater Noida; 130 km from Agra; 60 km from Noida, and 70 km from Faridabad and Ghaziabad. The JIA will be easily accessible from not only Kanpur and Allahabad, but also other locations including Gwalior, Ludhiana, Bathinda, Shimla and Pathankot. Moreover, it is proposed to be connected to Delhi Metro via the Noida Metro route and via the Delhi-Faridabad-Ballabhgarh-Palwal-Jewar route. Additionally, a 31-km-long link road will connect Noida International Airport to the upcoming Delhi-Mumbai Expressway. Jewar Airport Station is also one of the proposed stations on the Delhi–Varanasi High Speed Rail project
On completion of all four phases of the construction by 2040, Jewar International Airport's traffic-handling capacity will be more than 70 million passengers. With two runways, the first phase of the airport will handle around 12 million air passenger traffic which will go up to 30 million in the second phase and 50 million in the third phase and over 70 million at the final phase. Currently, New Delhi IGI Airport is handling around 70 million passengers, which is far beyond its capacity.
Jewar Airport cost, infrastructure, compensation
INR 29,650 crore is the total cost estimate for Jewar International Airport's construction, which will be spread over 12,355 acres. The first phase of the construction costing a whopping INR 4,588 crore will be spread across 1,334 hectares and is expected to be completed in 2024. The second phase will cost INR 5,983 crore while the third and fourth phases will cost INR 8,415 crore and INR 10,575 crore respectively. The compensation package for rehabilitation of over 8,971 families from various villages in and around Jewar, which have been affected due to the land acquisition, is estimated to be around INR 3,000 crore.
The area and cost wise, Noida's Jewar International Airport will undoubtedly be much bigger than the upcoming Navi Mumbai International Airport.
The foundation stone for Noida International Greenfield Airport DXN was laid in November 2021 by Prime Minister Narendra Modi after the project had been tossed around between various political parties in power since 2001. The long-term airport project will be completed in a phased manner through 2040. The airport will become operational as soon as its first phase construction is over in October 2024 with one terminal building and a runway. Its initial passenger-handling capacity will be limited to 12 million per annum.