China Airlines, based in Taiwan, has recently lifted the veil over the much-awaited Boeing 777-300ER, which has already fired the imagination of jetsetters, high-flyers and aviation experts. Leading critics in the aviation world have been calling the Boeing 777-300ER different names such as 'airborne lounge', 'lounge in the sky', 'mini hip hotel' 'next-gen aircraft, etc. Why not call China Airlines' new aircraft such names? After all, it resembles an uber modern hotel bar, in the interior. The way the cabin is refurbished reinterprets classic aesthetics of Taiwan.
The Boeing 777-300ER has a tastefully designed cabin with 358 seats including 40 Premium Business Class seats, 62 Premium Economy seats and 256 Economy seats. The international standards compliant interior design features unique mood lighting, one of the ultimate treats of comfort on board, especially in Premium Business Class and Premium Economy Class.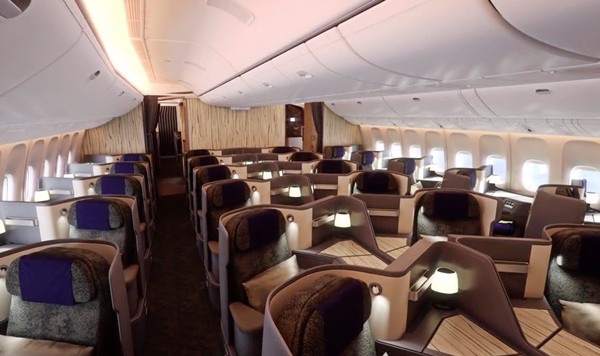 According to the Boeing manufacturer, 777-300ER is an ergonomically designed two-engine aircraft which is more environment friendly than similar other jets. Its energy-efficient technology is supposed to bring down the level of carbon emission by 22%. China Airlines has proposed to extend its fleet by adding 10 B777-300ER between 2014 and 2016. With these 10 jets in service, the carrier will save NT$300 million on fuel annually.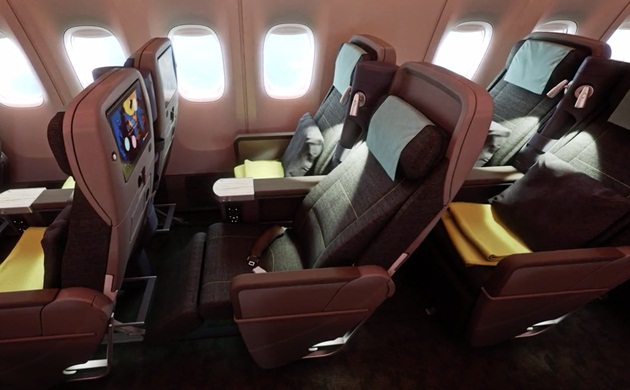 The Premium Business Class is an oasis of comfort with full-flat 78-inch seats which are almost as spacious as the First Class seats. The Premium Economy Class is a new addition to the Boeing 777-300ER. The highlight of this new cabin is fixed backshell design which facilitates reclining of the front seats without causing inconvenience to the passengers sitting behind. 39-inch legroom is another feature of relaxation that the Premium Economy Class promises.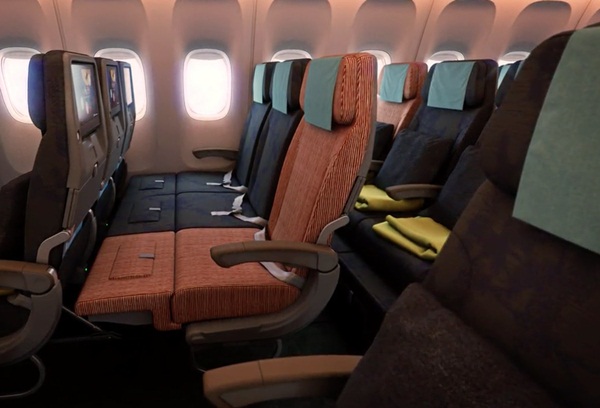 China Airlines has taken care of its economy passengers as it is evident from the design of Economy seats as "Family Couch" in the Boeing 777-300ER. The footrest can be raised to convert the seats into sofa beds. Asia's first Family Couch or Sky Couch in the sky is sure to make a family of three feel at home on board. Seatbacks can recline to 120 degrees, leaving enough legroom for extra comfort.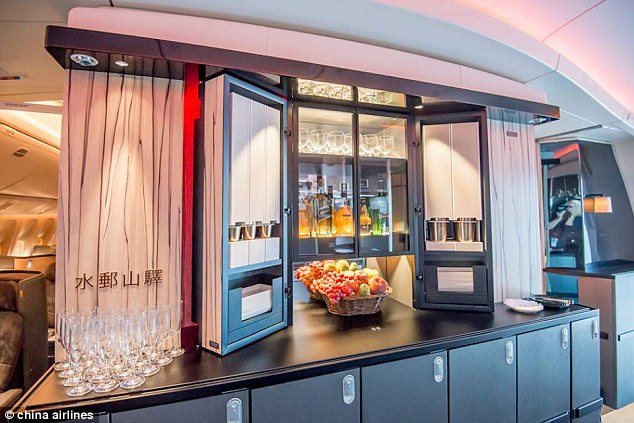 The passenger-service infrastructure of China Airlines' Boeing 777-300ER integrates a Sky Lounge in the Premium Business Cabin. The inimitable luxury of flying with China Airlines is promised in the Sky Lounge where the taste buds craving for tea or coffee or both are meticulously served. There are the "Literary Tea-tasting Area" and the "Western Fashionable Coffee Area." The Sky Lounge does also have a bar catering to the mood for cocktails. A little space on two sides of Sky Lounge is dedicated to bookshelf which stores popular English titles. The new aircraft promises the pleasure of reading at ease, too.
Over the last two years, China Airlines has made several efforts to embed its brand philosophy in cabin design besides an approach towards achieving fuel efficiency and ensuring enhanced safety. The airline has drawn thematic inspirations from the history and cultural heritage of Taiwan to exhibit its brand philosophy in the cabin interior design. It is expected to support China Airlines' stand in the global air travel market.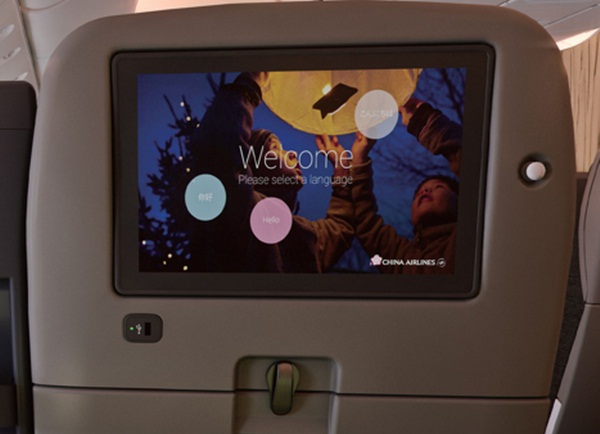 The Taiwan based airline scores high on the index of inflight entertainment too. The Boeing 777-300ER has its cabins equipped with the Panasonic eX3 inflight entertainment system, which supports a revolutionary inflight social networking function, "Seat Chat". It allows travelers on the same flight to communicate with each other via instant messaging. The inflight entertainment screens boast impressive sizes – 18 inch in Premium Business Class, 12.1 inch in Premium Economy Class, and 11.1 inch in Economy Class respectively.
As China Airlines does not lag behind other USA to India airlines, it has equipped the Boeing 777-300ER with Wi-Fi system, following a rising demand for it. Wi-Fi connectivity will cost US$11.95 for 1 hour, US$16.95 for 3 hours, and US$21.95 for 24 hours.
Indian Eagle books cheap flights to India from USA with China Airlines which flies to Mumbai (BOM) and Delhi (DEL).
Keep in touch with Indian Eagle on Facebook and Twitter for the latest aviation news, new flights, India tourism news, India travel ideas, and cheap travel deals.