Rabindranath Tagore, India's first Nobel laureate in literature, will be seen in an English biopic titled Thinking of Him by eminent Argentinian filmmaker Pablo Cesar. He is the first English filmmaker to make a biopic on such a larger-than-life personality with numerous feathers in the cap as Rabindranath Tagore. Academy Awards winning Satyajit Ray was the first filmmaker to have made a documentary on the Bard of Bengal in 1961.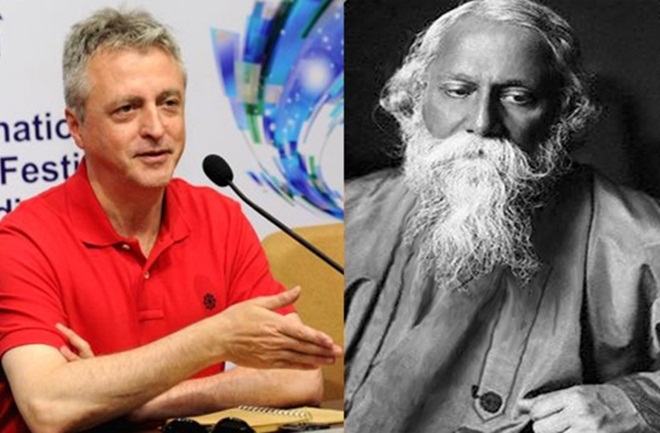 It is a herculean task to make a feature film on the eventful life of Rabindranath Tagore, who traveled across the world in the times where there was no airplane and who played a great role in the movement against the partition of Bengal during British Raj. That's why the film Thinking of Him will capture Tagore's life in the year 1924 when he was 63 and lived in Shantiniketan, which he founded after receiving the Nobel Prize for Gitanjali in 1913.
Shantiniketan, a short drive from Kolkata, houses Visva Bharati University, an international center of fine arts and social science studies. It is known for such events as Basanta Utsav and Poush Mela, which are major tourist attractions.  – Indian Eagle
You are restless to know who will play Rabindranath Tagore in Thinking of Him. Pablo Cesar has roped in Indian actor Naseeruddin Shah to portray the great persona of Tagore in his biopic. Naseeruddin Shah has seen the best of Indian Cinema during his acting career spanning from 1980 till date. He is an eminent theatre thespian too. He has won the National Film Award three times and several Filmfare Awards besides the Padma Shri and Padma Bhushan from the government of India.
Naseeruddin Shah himself is a great persona with a rich repertoire of feature films, documentaries and theater plays. He has acted in many critically acclaimed movies including Hey Ram, A Wednesday, Sparsh, Katha, and Maqbool, an Indian adaptation of William Shakespeare's Macbeth. He has also appeared in a few English language films like The Perfect Murder, adapted from a 1964 British crime fiction, and The League of Extraordinary Gentleman, a 2003 Hollywood flick starring Sean Connery.
Media quoted filmmaker Pablo Cesar saying, "I am a Naseeruddin Shah fan and have watched his Manthan, Bhumika, Junoon and Sparsh many times." He unhesitatingly said, "Shah is an inspiring figure to me." He will soon fly to Mumbai to discuss the project with the actor. Shantiniketan and Argentina will be the shooting locations of Thinking of Him, which will be filmed in color except flashback scenes in black & white. The shooting will begin in summer 2016.
Pablo Cesar is an eminent filmmaker and screenwriter. He is best known for his surrealist films like Fuego Gray. He has been a member of the jury for several film festivals including the Montreal Youth Film Festival, Canada. He directed and wrote the script of Blood, Aphrodite, the Garden of Perfumes; Grey Fire, and Equinox, the Rose Garden.
Superstar Amitabh Bachchan was approached to play Rabindranath Tagore in a biopic by some Indian filmmaker in 2010. But the project has not been executed till date. – Indian Eagle
Travel Beats is a Cultural Publication by Indian Eagle, a U.S. based international travel organization. Travel Beats publishes the latest news stories about India, USA and Canada.
Other Interesting Stories