National Geographic's latest The Story of God with Morgan Freeman documentary series features Morgan Freeman, an eminent Hollywood actor, in quest of how the perception of God has changed over centuries. Morgan Freeman who played God in two feature films, Bruce Almighty and Evan Almighty, by Tom Shadyac takes a spiritual journey through seven countries including Turkey, Egypt, India and Mexico in The Story of God, a six-part series beginning Sunday.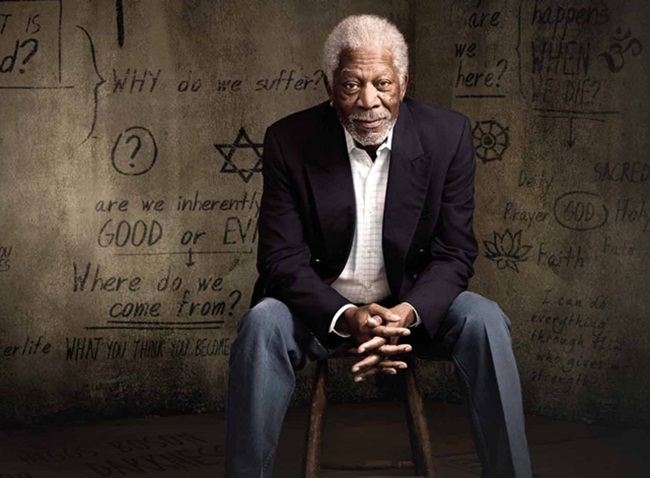 It is National Geographic's The Story of God documentary that brought him to India for a maiden visit to Gaya and Varanasi last year. He found the diversity in the life and culture of those two most popular destinations for pilgrimage so riveting that he would love to return to Incredible India to make a movie.
I would primarily like to go to India and make a movie. I'd like to be there for a while. Some time ago I had a great idea, a great movie idea. It wasn't mine; it was someone else's. It wasn't well thought out, but it was a great idea and I would really like to do something like that in India. – Morgan Freeman
Both Varanasi and Bodh Gaya are part of National Geographic's The Story of God with Morgan Freeman documentary. Bodh Gaya is the place where Prince Siddhartha was blessed with divine enlightenment and became Lord Buddha from a wandering monk in the Indian state of Bihar. Varanasi is "older than history, older than tradition, older even than legend, and looks twice as old as all of them put together," in the words of Mark Twain. Varanasi is where the spiritual being of India lies.
India is a melting pot of myriad religions, beliefs, faiths, rituals, customs and traditions. Morgan Freeman found fascinating differences from place to place during his filmic pilgrimage to Bodh Gaya and Varanasi. Travel to India once in lifetime for an unforgettable experience. – IndianEagle
The Story of God with Morgan Freeman documentary series traces the evolution of religion and explores philosophies of the life, death and life after death cycle through the ruins of civilizations at iconic places in seven countries. Actor Morgan Freeman visited the Waiting Wall in Jerusalem, the Mayan Temples in Guatemala, the pyramids in Egypt, the Hagia Sophia in Istanbul, the Bodhi Temple in Gaya, the Ghats of Varanasi and likes for shooting of the documentary by National Geographic.
Morgan Freeman in The Story of God is seen in meaningful conversations with priests, monks, swamis, lamas, rabbis and even scientists on the meaning of life, happenings after death, etc. Each of the episodes in the six-part series of the documentary shows a big picture of life, existence, death, life after death, humanity, spirituality, divinity, etc. He will be seen crawling inside an Egyptian pyramid in Sunday's premiere on April 10. He will accompany the garland-draped corpses to cremation sites on the banks of the River Ganga in Varanasi in the next episodes.
National Geographic's The Story of God with Morgan Freeman episodes seek to promote an understanding that religions such as Judaism, Hinduism, Buddhism, Christianity, Islam, the Mayan faith and others unite us for good and great purposes, not divide us, by showing similarities among different faiths.