The United States has seen both the worst of crimes against humanity (mass shootings) and the best of philanthropy in 2018. While the US government shutdown (partial) over President Trump's border wall has drawn the global attention to the nation's political doldrums, a handful of philanthropists and humanitarians have unaffectedly been working for community welfare in the country. Among them is Dr. Kiran Patel, one of the Indian-origin billionaires in USA and a recipient of the Outstanding American by Choice Award 2017.
Dr. Kiran Patel, a Tampa-based entrepreneur cum philanthropist, has recently broken ground for a state-of-the-art charter school in Florida. The upcoming school for tuition-free education to students is expected to cost $20 million to the Drs. Kiran Patel and Pallavi Patel Family Foundation. A staunch advocate of quality health care and education, Dr. Kiran Patel and his Ahmadabad-born wife, Dr. Pallavi Patel have allocated $20 million for the tuition-free school, in continuation to their pledge to donate a quarter billion dollar for various charities.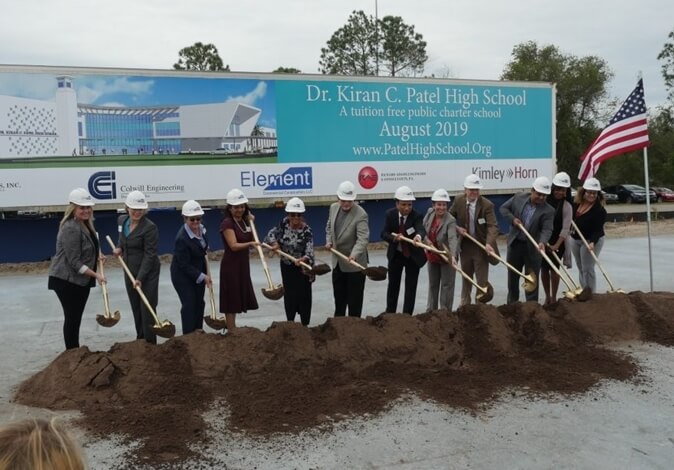 Expected to open in August 2019, the Dr. Kiran C. Patel High School for tuition-free education is planned to be a 60,000-square-foot edifice on a 32-acre plot near the University of South Florida. The infrastructure of the charter school infrastructure will have facilities like an 11,000-square-foot gymnasium. A charter school is an independent institution, much like a private school, but it provided free education.
The upcoming Dr. Kiran C. Patel High School in Hillsborough County, Florida will admit 300 students in two batches: one for the 9th grade and the other for the 10th grade. The school's students-enrolling capacity will be enhanced up to a total of 600 students in the third year. Though external students (those from outside Hillsborough County) can seek admission to the school, the students residing in the county may get preference, according to Indian American Ash Bagdy, who hit upon the idea of the school.
The Dr. Kiran C. Patel High School in Hillsborough County will be unlike a traditional school where kids receive passive lessons. Kavita Jain, the school board president and a long-time friend of the Patels, said that the school curriculum would be strategically designed so as to create future leaders with the attributes such as problem-solving attitude, entrepreneurship, creativity, and agility that tech giants like Google, Apple and Microsoft will be looking for in potential employees.
Project-based learning, transformative education and collaborative learning environment are the mainstay of Dr. Kiran C. Patel High School where students living below poverty line will be benefitted. Community leaders and business tycoons will be invited to mentor students at the Dr. Kiran C. Patel High School in Temple Terrace, Florida.
In September 2017, Indian-origin Dr. Kiran Patel pledged a donation of $200 million to Florida's Nova Southeastern University for medical facility development at the university's Clearwater campus in Tampa Bay and large-scale healthcare advancement in Florida. It was lauded as the single largest donation to a US institute in the history of America. A key condition of Dr. Kiran Patel's $200-million commitment to Nova Southwestern University is that 40% of medical graduates will be practicing in medically underserved areas across the globe.
This news story is brought to you by Indian Eagle Travel at its overseas Indian community portal, Travel Beats, as part of the continued effort to promote good work by Indians in USA. Indian Eagle not only strives to make air travel to India cheaper but also caters inspiring community stories, visa & immigration news, and international travel alerts through free newsletters.