The time of the year when the United States selects Great Immigrants of the year and honors them with the Pride of America Award is back. 34 naturalized US citizens, including two India-born Americans, will be recognized as Great Immigrants of 2021and receive the Pride of America Award this July 4, the US Independence Day. The most prestigious award was instituted in 2006 by Carnegie Corporation of New York.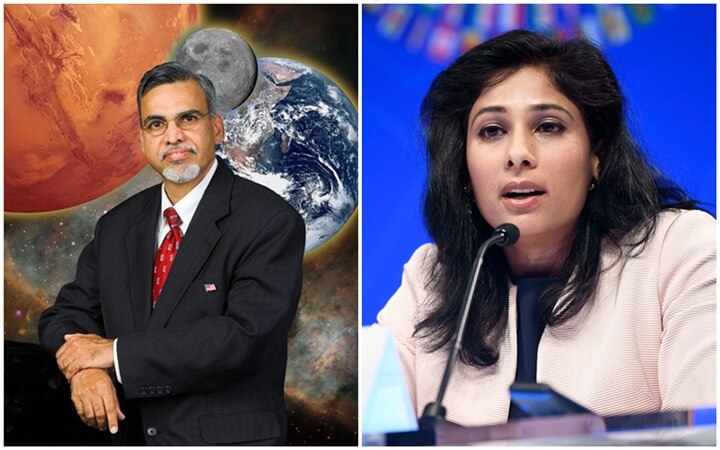 Gita Gopinath, the Chief Economist of International Monetary Fund, and Kamlesh Lulla, a renowned NASA scientist, will be inducted into the elite club of over 600 outstanding immigrants in the US the moment the Flag of America will be unfurled under the open sky on July 4. In 2020, Siddhartha Mukherjee, a celebrated oncologist cum Pulitzer Prize winner, and Harvard economist Raj Chetty were recognized as Great Immigrants for their leadership roles in America's fight against the pandemic. Read more about Siddhartha Mukherjee and Raj Chetty.
Dr. Kamlesh Lulla is the Chief of NASA Johnson Space Center's New Earth Science Branch in Houston, Texas. He served in various capacities at NASA Johnson Space Center, including Chief Scientist for Earth Observations, Lead Mission Scientist, and Astronaut Training Specialist. A proud recipient of three NASA Exceptional Achievement Medals, Dr. Lulla is a senior advisor for university research and technology collaboration at NASA Johnson Space Center.
Among the Great Immigrants of America in 2021, Dr. Kamlesh Lulla is an Honorary Professor at Kansas State University, the University of Delaware, the University of Brussels, and the University of Houston, Clear Lake. He served as Professor and Director of Remote Sensing Center at Indiana State University prior to joining NASA. He is also called a "genuine people-to-people ambassador for the United States".
He is a recipient of the Pravasi Bharatiya Samman Award from the government of India. He is a prolific writer too. He has widely published his research work on various topics including space science and climate change. He has nurtured many young talents in science, engineering, mathematics and technology. He credits his success, achievements and international fame to his Indian values and cultural heritage.
Gita Gopinath, the first woman Chief Economist of International Monetary Fund, will be felicitated as one of the Great Immigrants of America 2021 on July 4. She is also Director of IMF's research department, in Washington DC, where her focus is on international finance and macroeconomics. In an interview with The Print's Editor-in-Chief, she was critical of PM Narendra Modi's demonetization move, but she was all praise of the reformative implementation of the Goods and Services Tax (GST) in Indian economy.
Though she studied science in high school, she took up economics in college when India was mired in an economic crisis. She graduated from Lady Shri Ram College for Women in Delhi and pursued masters at Delhi School of Economics, one of the most prestigious institutions in Asia. On completion of her PhD at Princeton University in 2001, she became an assistant professor at the University of Chicago's Graduate School of Business.
Kerala-born Gita Gopinath is a visiting scholar at the Federal Reserve Bank of Boston, a Harvard University Professor of International Studies and Economics, economic advisor to the Chief Minister of Kerala, a co-editor at the American Economic Review, and a member of the World Bank's High-level Advisory Group on sustainable and inclusive recovery and growth. She was named 'Young Global Leader' in 2011 and one of the 'Top 25 Economists under 45'. She is a widely published author on various topics, such as global monetary policy, international financial crisis, global trade and investment.
Gita Gopinath, a distinguished OCI card holder, was given the Pravasi Bharatiya Samman, the highest honor for a foreign citizen of Indian origin.