The 75th Golden Globe Awards night was a ceremony of multiple historic wins including Aziz Ansari's recognition as the Best Male Actor in a Television Series Musical or Comedy. A most popular stand-up comedian, Aziz Ansari is not only the first Indian American but also the first actor of Asian origin to have own the Best Actor at the Golden Globe Awards for his performance in Master of None, a Netflix TV series.
Master of None is an American comedy web TV series starring Aziz Ansari in the lead role of Dev Shah, a 30-year-old struggling actor. The story of Master of None is inspired by Ansari's initial days of struggle in New York. This Netflix series has been nominated and selected for several awards including Emmys and Golden Globe Awards.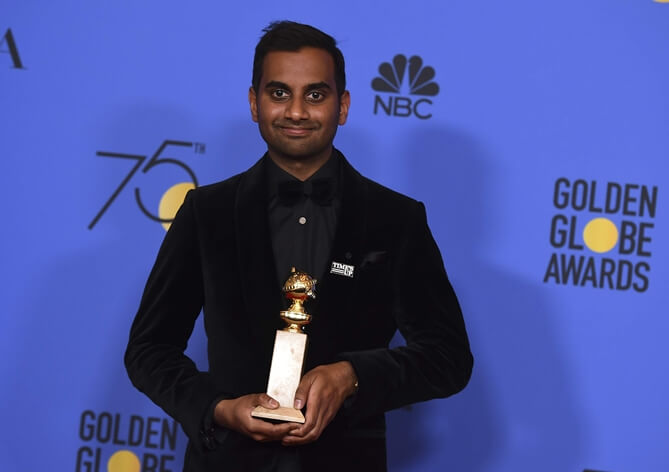 "I genuinely didn't think I was going to win because all of the websites said I was going to lose. I'm glad we won this one because it would've really sucked to lose two of these in a row; it would've been a really shitty moment for me, but this is nice," Aziz Ansari said uninhibitedly in his acceptance speech at the 75th Golden Globe Awards.
Born in a Tamil Muslim family which migrated from Tamil Nadu, India and settled in South Carolina, USA, Aziz Ansari began his career as a stand-up comedian in New York City while graduating in marketing at the New York University Stern School of Business. He gradually carved his niche in acting and filmmaking after having bagged the Jury Award for Best Standup at the 2006 US Comedy Arts Festival in Colorado.
A self-identified feminism, Aziz Ansari got a big career break in the American entertainment industry when he was cast for the role of a government employee in NBC's comedy show, Parks and Recreation in 2008. He was named one of the "Breakout TV Stars" in 2009 for playing an underachieving government employee with dreams of success. He also played a xenophobic fruit vendor in the HBO series, Flight of the Conchords.
Born in Columbia and brought up in Bennettsville, South Carolina, the 75th Golden Globe Awards' Best Actor winner Aziz Ansari has appeared in several films including I Love You, 30 Minutes or Less, Get Him to the Greek, Funny People, Observe and Report.
Ansari is a published author too. He debuted in creative writing with the release of his first book, Modern Romance: An Investigation in 2015. The book narrates the drawbacks of dating in the modern world from a comedic standpoint.
Travel Beats is a leading Indian American portal by Indian Eagle, a most trusted partner of Indians in USA booking cheap flights to India. Subscribe to Travel Beats' free newsletter for latest immigration, visa, air travel and community news.