India is home to myriads of indigenous cuisines adding to the cultural diversity of the nation and diversifying food habits of various communities. Symbolizing 'Unity in diversity' is Dal Bhat or Dal Chawal, a traditional staple which is the mainstay of most Indian cuisines and common to Indian households across the diverse socio-economic fabric of the country.
Dal Bhat that Indian American chef Vivek Surti grew up eating 4-5 times a week features with an exotic fusion on the menu of his restaurant, Tailor. The dish is served with as much pride and love at the restaurant in Nashville, as it is served in Indian households regardless of socio-economic status. Vivek Surti believes that remaining loyal to our cultural heritage does always pay off.
Indeed! Tailor Nashville, the restaurant that Chef Vivek Surti named after the profession of his grandparents in Gujarat, has made it to Bon Appetit's "Hot Ten", the 2019 list of 10 best new restaurants in America. Located in Germantown, Nashville, Tailor landed at No. 7 among more than 200 restaurants across the United States.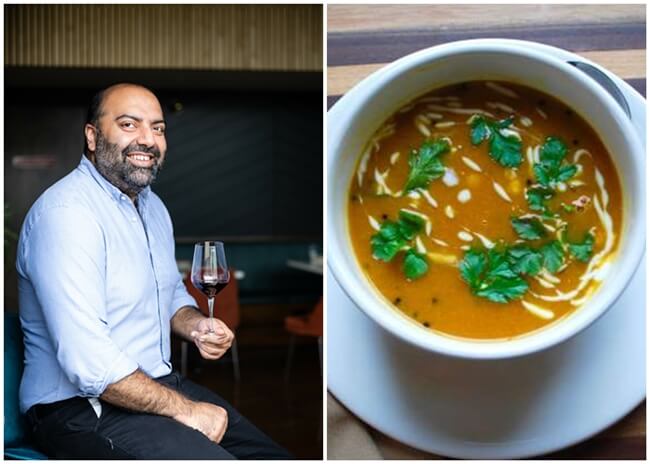 "Surti's storytelling suffuses the space and the food served within it with so much vulnerability and personality and love that you could not possibly be anywhere but 'our home', and to dine at Tailor is to be his guest, fully and completely," according to Bon Appetit.
A first-generation American of Indian descent in Nashville, Vivek Surti recalls his school days in Washington DC, in connection with his motive behind the launch of Tailor in 2018.
When he was a kid, he used to binge eating his mom's Indian dishes made in home; but he would panic at the thought of taking his lunchbox filled with the same dishes to school. Some of his elementary schoolmates would jeer at him, "What's that smell? Why don't you just eat normal food?"
On return from school, he would innocently ask his mom whether she could pack jelly sandwich and some peanut butter in his school lunch box, so that his classmates would abstain from pulling his legs. "Although I didn't realize it then, I truly regret my decision of favoring a processed, quick meal over something that was homemade with love and care," Vivek bared his mind.
"When I started cooking, I never cooked Indian food. I wanted to make pizza, tacos, Thai food and BBQ. But as I grew, I developed a craving and a need to understand the food that I grew up eating – without shame or remorse," he said uninhibitedly.
The news of Tailor Nashville having featured on Bon Appetit's 2019 list of best 10 restaurants in America, Chef Vivek Surti has doubled his joy of reconnecting with not only the food he grew up eating, but also the people who cooked each with love and care every day.
Dal Bhat apart, Bhel is another popular dish on the menu of Tailor Nashville which Bon Appetit describes as "where Gujarat meets the south." Bhel is a mixture of crispy puffed rice, peanuts, fresh herbs such as cilantro, garbanzos, and grapefruit supremes seasoned with mint and tamarind chutneys.
From the family heirloom chandelier hanging from the ceiling of the dining room to the menu featuring Dal Bhat with yogurt cream – everything is a hint at Vivek Surti's inheritance of Indian culture and culinary heritage.
Travel Beats, a subsidiary of Indian Eagle, is a leading Indian American community portal for inspiring stories, stories of achievement, and latest immigration, visa and travel news. Indian Eagle is a most trusted travel booking partner of Indians in USA, having a proven record of booking cheapest flights to India with confirmed air tickets and the best service in industry.