India was the cradle of chess, a globally popular mind game, according to the Encyclopedia Britannica. Earlier known as Chaturanga, chess used to be a royal game in ancient India. Recently, Prime Minister Narendra Modi gifted a set of chess to the King of Bhutan and his family on a 4-day visit to India. Often, one's diplomatic and decision-making skills are linked to one's prowess in the game of chess. There is another great usefulness of this mind game, and that too is for cerebral health of senior citizens.
Yes, chess can be used for a cause. That's what two Indian American girls – Anuhya Tadepalli and Poojita Chinmay – are doing for the sake of the aging population in Metro Atlanta Area, Georgia. They use chess to empower seniors against age-related mental health challenges. We at Indian Eagle pride ourselves on giving a shout out to their initiative, Chess for a Cause in the Atlanta Metropolitan Area, as part of our series of inspiring stories about Young Indians in the USA.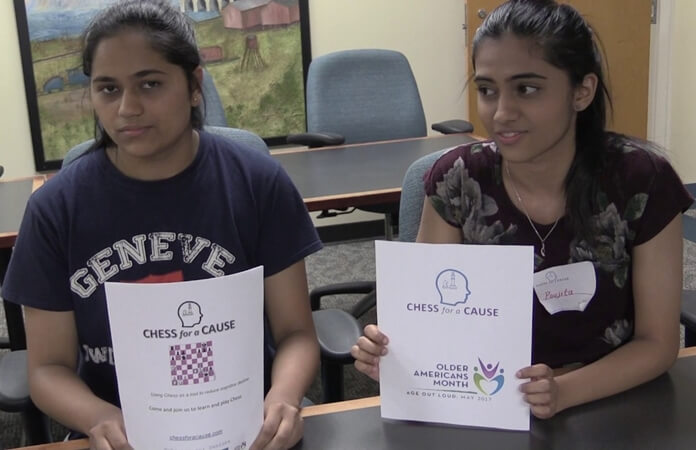 Launched in 2016, Chess for a Cause is a noble, volunteering, nonprofit organization with the goal of relieving age-related mental health ailments like dementia in a rapidly-aging America. One of the volunteering organizations in the Metro Atlanta Area, Chess for a Cause is steered by a team of high school chess players towards its mission. The Chess for a Cause team makes volunteering visits to assisted living facilities for the elderly in Atlanta Metropolitan Area and demonstrates mental health benefits of chess to them. They teach seniors how to play chess through interactive videos and hands-on practice.
Apart from teaching chess to senior citizens and playing it with them, the founders of Chess of a Cause – Anuhya Tadepalli and Poojita Chinmay – research on various forms of dementia including Alzheimer's in the elderly. "We formed Chess for a Cause in order to bring the benefits of chess to the doorsteps of senior in our community through volunteer work from high school students," says Anuhya Tadepalli, an Indian American resident of Milton.
Also Read: Indian American Girls Fund Children's Cleft Lip Surgery in India
In June 2017, Anuhya Tadepalli's Chess for a Cause was selected as one of the winners in a statewide competition, which was intended to recognize innovative ways to support and engage the elderly or differently-abled seniors. Chess for a Cause was awarded by the Georgia Department of Human Services Division of Aging Services.
Chess for a Cause is currently associated with 14 senior citizen healthcare facilities in Milton, Alpharetta, Roswell, Johns Creek, Sandy Springs and Suwanee in the Metro Atlanta Area.
How Chess for a Cause happened to Anuhya Tadepalli and Poojita Chinmay, is a story worth sharing. These two Indian American girls hit upon the idea of using the game of chess as a mental health stimulant for the elderly while volunteering for seniors at a local memory care facility one summer. Anuhya Tadepalli, a senior at Milton High School and Poojita Chinmay, a junior at Gwinnett County' School of Mathematics, Science and Technology dived deep into research on how playing chess could help adults cope with age-related mental health problems.
Milton's Mayor Joe Lockwood praised Anuhya Tadepalli and thumbed up her initiative as an inspiration to everyone. He said eloquently that Anuhya's volunteering for senior citizens' mental wellbeing not only has medical benefits but social and psychological benefits as well.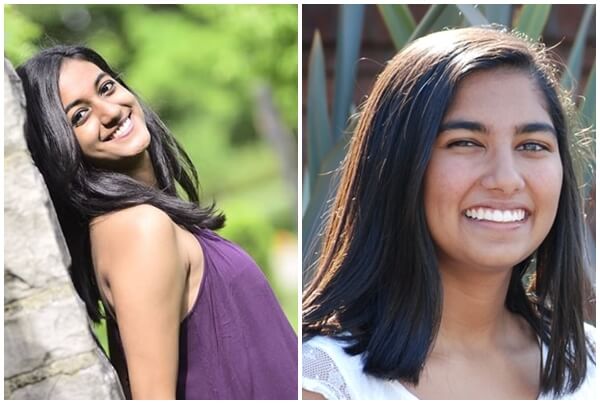 Not only Anuhya and Poojita, but more and more Indian American teens are coming forward to serve the aging populace of America. Chicago-based Dhivya Sridar's I-AM SHAKTI is a ray of hope for victims of mental health disorders. California Indian Anika Kumar's 'Forget Me Not' phone call program is a voluntary service to help socially isolated elderly people bare their hearts and minds. Thus, these young Indian Americans are bridging the generation gap with the elderly while working for community welfare. – Indian Eagle
The founders of Chess for a Cause are inviting volunteers to join their mission across the US state of Georgia. Those who are interested can comment below or write to us at share@blogbox.indianeagle.com.