"A genuinely free society cannot be a spectator society". Founded on this premise way back in 1964, the White House Fellows program has been engaging young leaders of exceptional caliber in the process of governing the nation and offering them first-hand experience in the practice of decision-making leadership for more than five decades. Individuals, regardless of their cultural origin, are selected as full-time fellows to the federal government officials and allowed to participate in roundtable discussions with leaders from public as well as private sectors. A most prestigious program, the White House Fellowship encourages active citizenship of young professionals from diverse backgrounds.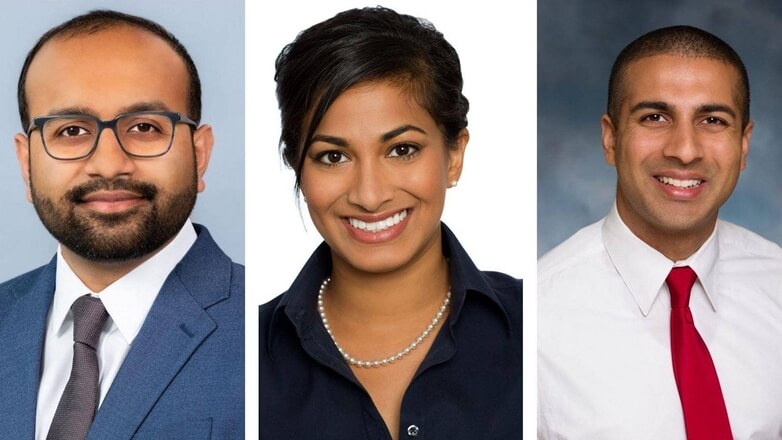 Three Indian American professionals have been selected for the recently announced 2021-2022 class of White House Fellows. They are Sunny Patel, Joy Basu and Akash Shah. These highly-gifted future leaders of Indian origin will gain a first-hand understanding of the challenges the government faces over one year of their personal involvement in the workings of various federal agencies. On completion of the program, they are expected to continue participating in national affairs, whereas others judge public policies while sitting isolated on a fence.
Sunny Patel from Burbank, California is one of the three Indian American White House Fellows in the 2021-2022 class. He will be engaged in the affairs related to the US Department of Homeland Security. A public health psychiatrist on the mission of building an equitable health system for families, Sunny Patel developed an embedding mental health model for pediatric oncology during his fellowship at New York University. He proved to be a responsible citizen and a good human being by launching a mental health support service for frontline COVID-19 workers. He helmed health interventions for vulnerable communities and refugees in the US, India and other countries. He completed his psychiatry residency at Harvard Medical School.
Among the White House Fellows in the 2021-2022 class, Joy Basu from Illinois is selected for the White House Gender Policy Council. Currently residing in San Francisco, Joy Basu is a Doctor of Law and MBA from Stanford University. Born to an immigrant couple from West Bengal, she strives to act as "a thoughtful global citizen with strong Midwestern roots". She has had an exemplary journey from a finance intern in the US Department of State to a public policy major to a corporate leader.
A Term Member of the Council of Foreign Relations, Indian American Joy Basu is a senior advisor to businesses in emerging markets. She rose from a project manager at World Economic Forum and became the first Chief of Staff at TPG Growth. As she believes in using private-sector solutions to help solve complicated social-sector challenges, she worked on a number of projects as a management consultant at McKinsey & Company, supporting international nonprofits and corporate agencies in food security. She had also organized Barack Obama's Presidential campaign in Indiana.
The 2021-2022 class of White House Fellows includes Indian American Akash Shah from New Jersey. He will gain a first-hand understanding of the affairs related to the US Department of Health and Human Services. The director of addiction medicine at Jersey Shore University and the medical director of HEAL (a hospital-based violence intervention program); Dr. Akash Shah helped to build momentum for the national healthcare policy. The White House honored him for his efforts towards promoting the Affordable Care Act. He has the distinction of being an advisor to local, state and federal policymakers. It was Dr. Shah who treated some of the confirmed COVID-19 cases in the early days of the pandemic. He is an MD from Harvard Medical School and a Rhodes Scholar of Oxford University.