This inspiring story of two Indian American teenage girls, Nandini Arakoni and Sanjana Gangadharan who founded the Side by Side Smiles organization, is a part of our continued effort at Indian Eagle to shout out humanitarian activities and achievements of young Indians in the United States.
Both Indian American girls – Nandini Arakoni and Sanjana Gangadharan – make charm bracelets and sell them online. They are not entrepreneurs. Rather, they are budding philanthropists. They make and sell charm bracelets to raise fund for a noble cause which will make any Indian feel proud of them.
All proceeds from their sale of charm bracelets on the website of Side by Side Smiles go to Smile Train, an international charity organization that provides treatment to children born with cleft lips and palates around the world. Smile Train operates in more than 85 countries, most of which are developing nations, and provides around 45,000 free surgeries yearly in association with 160 partner hospitals.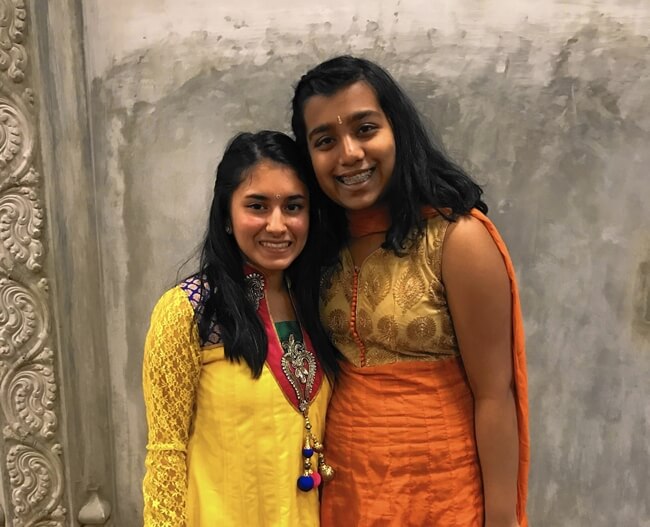 A resident of Naperville in Illinois, Indian American Nandini Arakoni empathizes with children having cleft lips or palates, because she herself had undergone the ordeals of this sort of inborn deformity as she was born with a cleft lip in the USA. It took three surgeries to get her rid of the cleft lip: the first at the age of 2 months, the second when she was 6 months old, and the third at her age of 5.
Nandini Arakoni has completely got rid of the facial disfigurement, but there is a small scar on her face. She exclaims that she is very lucky to have got a new lease of life post cleft lip surgeries. But she feels sad for the underprivileged children having no access to cleft repair treatment or surgery in economically-challenged regions of developing nations including India.
It is what motivated 15-year-old Naperville Indian Nandini Arakoni to do her bit for the welfare of children born with cleft lips and raise money for Smile Train. She teamed up with one of her friends, Sanjana Gangadharan. They together brainstormed the idea of making charm bracelets and set up the Side by Side Smiles website to sell the bracelets for $5 each.
It takes them 7 minutes to make one bracelet. Each bracelet is a symbol of love, happiness and the ability to make a difference. Side by Side Smiles' charm bracelets feature hearts, keys and feathers embodying love, happiness and one's ability to make a difference.
Nandini Arakoni and Sanjana Gangadharan's Side by Side Smiles has sold charm bracelets for a total of $4200 so far, which has been donated to Smile Train to perform 16 cleft palate surgeries. The philanthropist duo is looking to make nearly $100,000 for 400 surgeries through their Side by Side Smiles website. Smile Train has provided for over 500,000 cleft repair surgeries in India since 1999.
An aspiring lawyer, Nandini Arakoni quotes Smile Train, "Every child deserves the ability to smile" and says, "Transforming the lives of children born with cleft lips or palates with the power of a smile is the best joy of giving back to community that we could ever have. $5 for one bracelet funds 2% of a cleft repair surgery."
Indian Eagle, a trusted travel partner of Indians in America for booking their cheap air travel to India, publishes stories of Indians in USA, shares latest visa, immigration and air travel news besides listing upcoming Indian American events on Travel Beats, a leading Indian American community portal.