The untimely demise of Sidharth Shukla, a popular Indian television actor, who recently succumbed to a heart attack at 40, gives a grim picture of heart disease on the rise in young adults the world over. As of the 2018 stats, a little more than 30 million adults were diagnosed with heart disease in the United States. Every year, the US population shrinks by nearly 7 lakh lives claimed by heart disease, a leading cause of death in America. Several reports based on the 2019 stats showed that 1 in every 5 heart attack survivors was under 40.
Marissa Sumathipala, an undergraduate in neuroscience research and computational biology at Broad Institute of MIT and Harvard, was the first Indian American of Loudoun County, Virginia to have been a Regeneron Science Talent Search Finalist among 1800 contestants in 2018. She had received a scholarship of $25000 for her ground-breaking approach to reinventing the cardiovascular disease therapy for millions of people affected by heart ailments. Her take on the therapeutic treatment improves survival chances by 50 to 100%.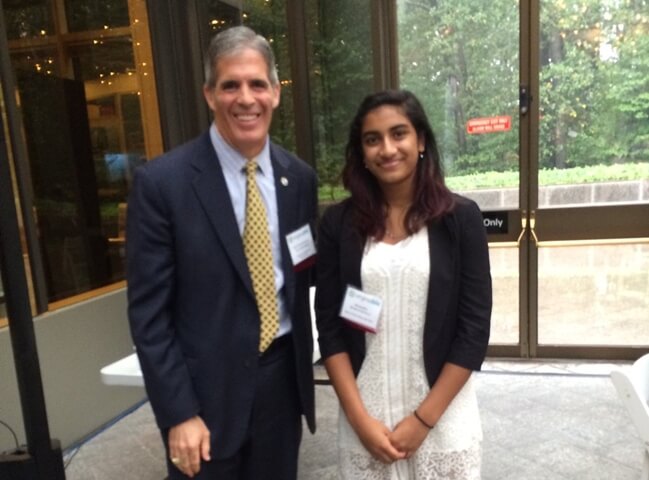 Indian American Marissa Sumathipala's project – Reinventing Cardiovascular Disease Therapy: A Novel Dual Therapeutic with FOXO Transcription Factor and AMP Kinase – has proven effective for diseased hearts and damaged heart muscles. She said, "Most significantly, this study presents FOXO and AMPK as a novel dual therapeutic for not just effectively and holistically treating a cardio vascular disease but preventing it as well." The dual protein-based therapeutic also treats metabolic aspects of a diseased heart by reducing high glucose and lipid levels. It improves contractility and lessens arrhythmias.
Pained by the hereditary history of heart disease in her family, Marissa Sumathipala took on treatments for heart disease and did extensive research on it for three years at Johns Hopkins School of Medicine. Her study is based on the latest advancements in epigenetic therapy, a most popular outcome of drug development. Epigenetic therapy works by modifying the behavior of genes in patients of heart diseases.
One of the 161 US Presidential Scholars selected from 3.6 million high school students in 2018, Marissa Sumathipala applied her study to fruit flies and tested efficacy of the dual therapeutic for a whole summer. The process was so delicate and difficult that it took a considerable period of time to perfect any therapeutic innovation. She filmed the experiment on fruit flies and its efficacy in restoring the normal function of heart.
"I have long nurtured a vision of being a medical scientist, leveraging core engineering principles to solve contemporary biological and medical problems," said Marissa, who developed an inquisitive mind and an interest in science after trekking in America's nationals parks. One of the first things she felt an urge to know, when she was 12 years old, was whether pesticides caused multigenerational effects in human beings.
She developed a statistical model to predict population-specific side effects of drugs and the impacts of COVID on drug safety during her current bioinformatics research internship at Harvard Medical School. Since September 2016, she has been a research intern at Howard Hughes Medical Institute. She worked as a clinical research assistant in the orthopedic surgery department of Brigham and Women's Hospital in Boston, where she analyzed the challenges, costs and outcomes of telemedicine in orthopedic care, during the pandemic.
A two-time winner of the Virginia State Science and Engineering Fair Grand Prize, Indian American Marissa Sumathipala founded Loudoun County's first International Genetically Engineered Machines team and led the team's project to create special yeast for effective treatment of industrial wastewater. The success of the project was recognized worldwide, fetching them some of the most prestigious awards in science & engineering.
One of the 150 scholars selected from 140,000 applicants in 2018, Marissa received a scholarship of $20,000 from Coca Cola Foundation. In the same year, she won Virginia Governor's STEM Essay Award and received $10,000 scholarship. She was one of the top 50 in computer science, who were awarded by the National Center for Women & Information Technology. In 2016, she won Intel ISEF's Grand Award in the cellular and molecular biology category for her new therapeutic strategy for cardiovascular diseases. She was named a 2018 Davidson Fellow by Davidson Institute for Talent Development. She won the 2021 Collegiate Award from the National Center for Women in Technology.