The future of America partly rests on young Indian Americans who are contributing to the socio-economic growth of the United States through innovation and philanthropy. The following story of 17-year-old Marissa Sumathipala, a 2018 Regeneron Science Talent Search Finalist, is part of our continued series of Young Indians in USA, at Indian Eagle.
Marissa Sumathipala, a high school senior in the US state of Virginia, has recently been declared one of the top 40 finalists of the Regeneron Science Talent Search 2018. Previously known as the Intel Science Talent Search, the Regeneron Science Talent Search was nicknamed the 'Super Bowl of Science' by US President George H. W. Bush in 1991. It is a leading research-oriented science and math competition for high school seniors in the US.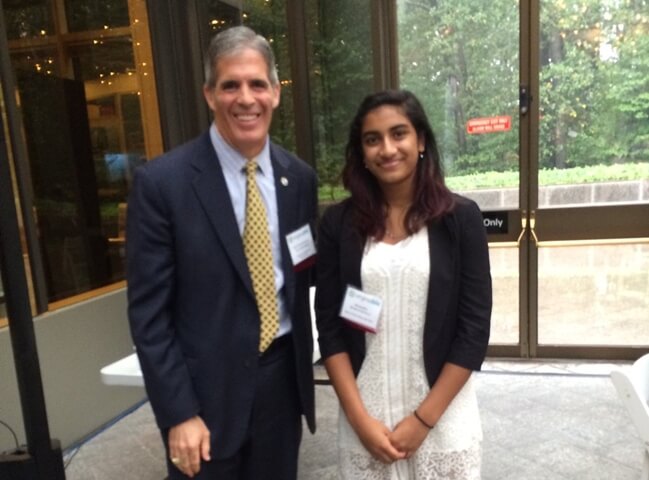 She is the first Indian American of Loudoun County, VA to have been a Regeneron Science Talent Search Finalist from among 1800 applicants. A Broad Run high school senior, Marissa Sumathipala has received a scholarship of $25,000 for her groundbreaking heart disease treatment. She has invented a new therapy for patients of cardiovascular diseases and the therapeutic promises improvement of survival chances by 100%.
Pained by the hereditary history of heart disease in her family, Marissa Sumathipala took on treatments for heart disease and did extensive research on it for three years at Johns Hopkins School of Medicine. Her therapeutic invention is based on the latest advancements in epigenetic therapy, a most popular outcome of drug development. Epigenetic therapy works by modifying the behavior of genes in patients of heart diseases.
Her invention has already proven effective for diseased hearts and damaged heart muscles. The therapeutic treatment that she has developed for cardiovascular diseases improves contractility and lessens arrhythmias. It can also treat metabolic aspects of a diseased heart by decreasing high glucose and high lipid levels.
Also Check: Virginia Indians to Get New South Indian Restaurant This Summer
Loudoun County-based Marissa Sumathipala applied her therapy to fruit flies and tested efficacy of the treatment for a whole summer. The process is so delicate and difficult that it takes a considerable period of time to perfect any therapeutic invention. She filmed the experiment on fruit flies and its efficacy in restoring the heart function.
A two-time winner of the Virginia State Science and Engineering Fair Grand Prize, Indian American Marissa Sumathipala founded Loudoun County's first International Genetically Engineered Machines team and led the team's project to create special yeast for effective treatment of industrial wastewater. The success of the project was recognized worldwide, fetching them some of the most prestigious awards in science & engineering.
An M.D. and Ph.D. aspirant, the 2018 Regeneron Science Talent Search finalist will give presentations on her invention and research to subject matter experts, science community leaders, congress members and the public at a public exhibition in Washington DC in March this year.
Determined to develop more new effective drugs for other diseases, Marissa Sumathipala will continue to compete for more than $1 million in scholarship. She is confident that her therapeutic invention for patients of cardiovascular ailments will be used to cure heart disease which affects 400 million people across the world.