Casually walking into the seabed is only possible with Graphics and Computer generated gimmicks on the Silver Screen or Ad films. In Chandipur, it is actually a possibility to witness the sea disappear for …. Hold your Breath….upto Five Kilometers.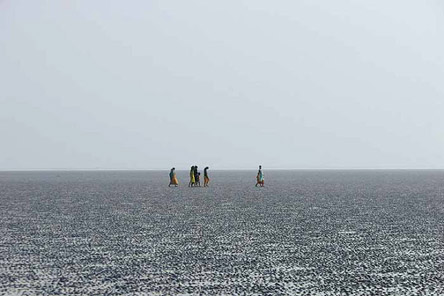 This unique phenomenon is possible without conjuring any magical tricks. This regular occurrence has morning walkers cover the expanse of the extra kilometers, ease coupled with sheer amazement.
Often referred to as the Hide-and –Seek Game, this trick occurs twice in a day. The sea recedes off the beach during ebb, for some time, to return and fill the empty expanse with high tide.
This natural phenomenon has tourists throng the Beach to catch a glimpse of the unmonitored play of events, right in front of one's eyes.
200 km from the state capital of Bhubaneswar, the ambience of the beach is just perfect for a picnic. The tall trees swaying to the breeze with the hum of the wind whistling soft tunes. Chandipur beach is ideal to whisk away that someone special, for a romantic candle light dinner.
The beach is bio diverse in its array of sea life. A casual crawl of a red crab is a common sight. The washed away seabed leaves a variety of sea shells and aqua treasures for the enchanted collector.Some locals enjoy a bike ride when the shoreline recedes leaving a wet sea bed behind . Rarely have the waves caught the onlookers by surprise.The tide is timed according to the Moon, which keeps changing, but the locals are well versed with the fluctuations.
Its proximity to the Defence Research and Development Organisation's (DRDO) Integrated Test Range has made the task of missile launch easier.The Akash, Agni, Shaurya and Prithvi ballistic missiles took off from this famous beach.
Indian Eagle recommends an advance booking for the Winter Season to the Shoreline that disappears and reappears at its own whims and fancies.Book to Bhuwaneshwar with Indian Eagle for the Lowest Airfare Guaranteed.