Peruvudaiyar Kovil, also known as the Brihadeeswara Temple in Thanjavur Tamil Nadu, is a work of art belonging to the Chola dynasty.The Hindu temple dedicated to Lord Shiva is part of the UNESCO World Heritage Site "Great Living Chola Temples".The centre of attraction is the Brihadeeswarar Temple which is a thousand years old.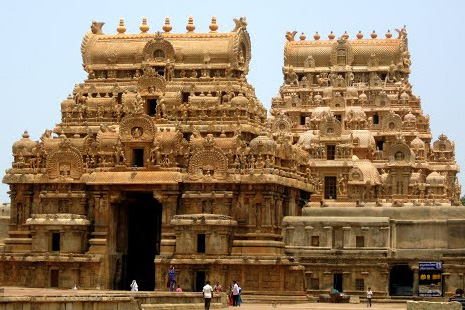 The temple tall amidst fortified walls was built in the 16th century. The tallest in the World, the vimana or (temple tower) is 216 ft (66 m) high.The unique feature is the Kumbam, apex of the temple, carved out of a single stone.
At the entrance, the welcoming statue of Nandi (sacred bull) carved out of a single rock stands proud at 16 feet long and 13 feet high.The mammoth structure made entirely of granite was built in 1010 AD by Raja Raja Chola I in Thanjavur. Consecrated by Raja Raja Chola I the temple commemorated the temple's thousandth anniversary in 2010.
It is popularly known as the 'Big Temple' and has rare Frescoes around the sanctum sanctorum.The murals portray  Shiva in postures battling demonic forts and dancing.
These valuable frescoes have become subjects of archeological finds after they were discovered in 1940. History can be recapitulated through these depictions of the journey made by Saint Sundarar and the Chera King to heaven. The vivid battle scene between Tripurantaka (Lord Siva) and the Asuras (demons) traces the unparalled skill of the Cholas.
The Archaeological Survey of India used the de-stucco process to restore 16 Nayak paintings.Indian Eagle makes travel easier for the patrons of Art. Check our prices at www.indianeagle.com