Fatehpur Sikri, founded by the Mughal Emperor Akbar in 1569, served as a capital from 1571 to 1585.After a victorious streak at  Chittor and Ranthambore, Akbar shifted from Agra to the new location.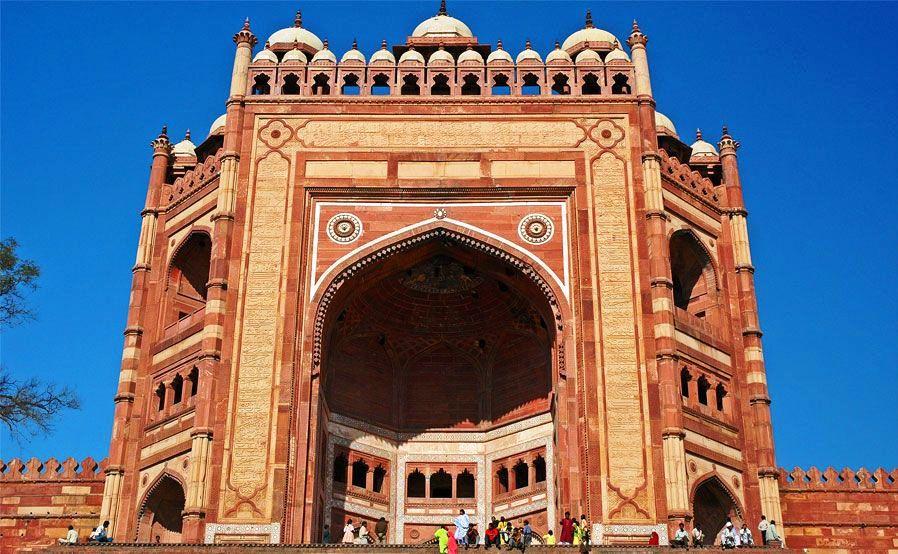 The place was christened as" Fateh" meaning victory which evolved into Fatehpur Sikri.Fifteen years were spent building royal palaces, harem, courts, a mosque, private quarters and other utility buildings.Having stood the test of time, the monument is one of the finest examples of Mughal Architecture.The rich stone walls bear witness to the glorious reign of Akbar for fourteen years.
The tiny hamlet of Sikri was discovered by Babar in the 16th century who named it "Shikri". Home to the Sufi saint, Shaikh Salim Chisti, who predicted the birth of an heir, Akbar had sentimental reasons attached with the place. True to his belief, Akbar had a record of victories over the rulers of Gujarat.In commemoration, the Bulund Darwaza was built which means 'high' or 'great' gate in Persian. It is also known as the "Gate of Magnificence."
Legend has it that Akbar and his famed courtiers called the 'nine jewels' were present in this court. Tansen lent his melodiuos voice  that echoed throughout the corridors.The legendary Birbal and his humorous anecdotes have resonated within these palace walls. The  stories or Akbar and his clever minister Birbal are recounted till date.
The Jami Masjid and fifteen other monuments that include the Diwani-i-am, Daulat Khana, Dhiwani-i-khaas, Anup Talao, Jodhabai's palace, and Birbal's house and  Ankh Michauli or Blind Man's Buff  are what draws tourists to this Mughal relic that bears the stamp of originality and fine sculpting.
Indian Eagle has great offers to Agra.Book at www.indianeagle.com