At an altitude of 1343 meters above sea level, Kodachadri the picturesque mountain peak with dense forests  is the pride of Karnataka.The government of Karnataka recognizes it as a natural heritage site in the Shimoga District.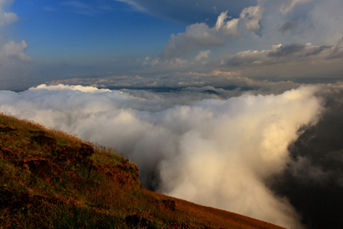 Part of the Western Ghats, the name is derived from the native word "Kodacha" or "Kodashi" which literally means hill of Kutaja flowers.
"Adri" in Sanskrit when combined together forms Kodachadri. Kutaja in Sanskrit means Girimallika or a hill full of Jasmines. Known by many names, it is also called "Kutachadri" and "Kodashi Parvatha".
The unique feature is that the peak is barren due to the onslaught of strong winds. The Thick Shola forests cover the base, making the peak invisible from lower ground level. Smaller peaks and hills too exist around the peak.
Located right in the middle of the Mookambika National Park, it is considered as a biodiversity hotspot. It's natural habitat has proven favorable for the preservation of endangered species of Flora and Fauna.
The important animal life found in this sanctuary are  Malabar Langur, Malabar Pied Hornbill, Malabar Grey Hornbill, Paradise flycatcher, Indian Tiger, Indian Leopard, Indian Elephant, Hyena, Gaur and the Indian rock python.
Kodachadri is rich in iron ore with magnetic properties in abundance .Sightseeing and Tourism has also made trekking a famous sport for adventure Lovers.
Famous for many waterfalls bridling one's way up the Hidlumane Falls, Arasinagundi falls, Belakallu theertha at the bottom of Kodachadri have a range of water activities.
Indian Eagle offers selectively lowest Airfare to Karnataka. Visit our website for an overview of our airfares that are as astonishingly low.