Imagine pristine surroundings with mint fresh cool air, now visualize yourself amidst this magical setting.The Araku Valley, part of the Ananthagiri Hills is a far cry from the crowded streets of Vizag.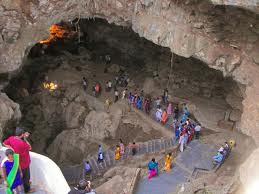 A renowed hill station, Araku Valley has become a Hot spot for its lovely locales and warm atmosphere.While at Araku, the Borra Caves require a special mention, as film scenes are shot at this locale.
Borra in Telugu means something that is bored into the ground. The Caves which are one of the largest in the country, are set at an elevation of 705 m (2,313.0 ft).The impressions created are imprinted in the form of speleothems.They range from very small to big and some are irregularly shaped stalactites and stalagmites.
These limestone structures extend to a depth of 80 m (262.5 ft) which is the deepest that can go.The flora and fauna are unique to the stark darkness that looms within these caves.Bats known as golden gecko are found here, as the forests area is semi-evergreen deciduous. The flora is moss and algae that cling to the rough erosions creates a graffiti like illusion.
Legend has it that a cow grazing, dropped accidentally through a hole in the roof.The shepherd, in search of the cow, chanced upon a Lingam that was interpreted as the protection from Lord Shiva.
The local village folk built a temple around the cave which has emerged as a pilgrim spot.Indian Eagle offers the Lowest Airfare to Visakhapatnam in Andhra Pradesh. Book at www.indianeagle.com