British Airways is all set to defy the current trend of squeezing space of Economy seats, while more and more airlines are reducing the width of Economy seats to make space for a few more passengers. Recently, Qantas Airways has been in news for adding more seats to the Economy travel cabin for short-haul flights. In this grim scenario of air travel, British Airways' defiance of the trend seems to win the hearts of Economy travelers.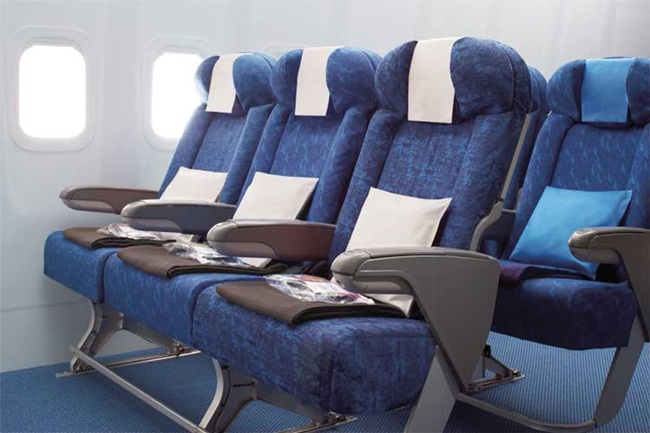 The Association of Professional Flight Attendants has raised an alarm about passengers' health and safety issues because of narrower and less-padded seats in the Economy cabin. Economy seats are getting narrow and less padded. In 2014, Delta Air Lines, United Airlines, American Airlines, and Southwest Airlines replaced normal cushion seats with slim-line seats. According to aviation experts, phrases like slim-line sound stylish and seem to convince passengers about the comfort of perching on these seats. Less-padded seats occupy less space, which makes it possible to increase the number of seats by a few. More seats mean more passengers. More passengers mean more money.
READ ALSO British Airways' Inflight Services on Flights to India
The move to widen British Airways' Economy seats on 787-9 Dreamliners will fetch the airline more attention in the global market. According to Kathryn Doyle, Manager of British Airways' Aircraft Product Cabin Interiors, the decision to widen Economy seats resulted from passengers' dissatisfaction and complaints about discomfort on long-haul flights. Widening of seats by half an inch helps to improve passengers' comfort without raising the level of competition with rival airlines.
JetBlue Airways is one of the few airlines which were favorites of air travelers for Economy seats with spacious legroom and free baggage check. It is reported that JetBlue Airways will reduce legroom by 5% the next year. The airline has already started taking baggage fees. Some opine that more seats in the Economy travel cabin will make more money for investors, while some believe that it will help airlines to avoid bearing the brunt of issuing cheap air tickets.
READ ALSO British Airways' Baggage Policy for US to India Flights
Though narrow and less-padded seats make Economy flyers unhappy, airlines have other reasons to make them happy. For instance, Qantas Airways is packing the Economy cabin with more seats on one hand and installing inflight wireless streaming entertainment systems on the other hand. However, usefulness of such measures in contrast to space reduction is debatable.
While aircraft manufacturers including Boeing and Airbus are reportedly packing more seats into Economy travel cabins at the behest of airlines, British Airways has embraced a liberal policy with regards to its Economy flights. However, aviation industry experts are waiting with a bated breath to know, "Where is the extra space to widen British Airways' Economy seats on 787-9 Dreamliners?"
Recently, British Airways reduced the size limits of carry-on bags in order to make space in overhead bins. The new cabin baggage police came into effect on August 18. Click here to read more. – Indian Eagle
Indian Eagle books British Airways' cheap flights to India from New York, Austin, Houston, San Francisco, Chicago, Newark, Los Angeles and Atlanta. The best flight is guaranteed despite the lowest fare.