Three members of the Oneworld Alliance – Qantas Airlines, Cathay Pacific Airlines and British Airways – have jointly launched a luxury lounge for business travelers at Los Angeles International Airport. Stylish and spacious, the lounge has been named LAX Business Lounge after the code of the airport.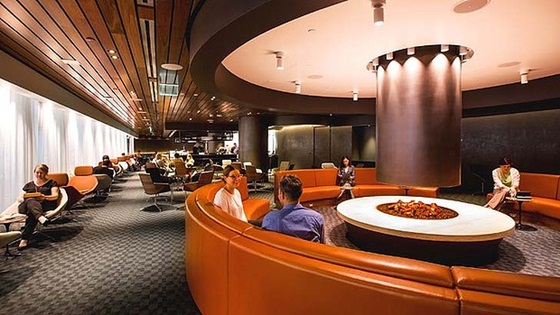 The interior décor of the Los Angeles Business Lounge exudes luxury in each detail of refurbishment and furnishing. The lounge's classic and contemporary design is largely influenced by the cultural aspects of Australia, China, and the UK which the founder airlines – Qantas, Cathay Pacific and British Airways – represent respectively – in combination with that of California. The lobby having a communal fireplace in the middle is modeled like a central glasshouse with sprawling space lit by natural light.
The lounge integrates all modern trappings that promise uber comfort to business travelers. The lounge's multi-cuisine dining area is a world-class food hub where the guests are served a menu of Californian dishes. There is a cocktail bar serving signature cocktails and wines too. Barista service is also available in the dining area. The new Los Angeles Lounge features modern workstations with Wi-Fi connection for business travelers. Guests can refresh themselves in shower suites equipped with spa amenities.
Qantas Airlines' travelers can treat themselves to a huge selection of dining options at the LAX Business Lounge so that they can get maximum sleeping hours on overnight flights. Neil Perry, Qantas Airlines' master chef, has mixed up their signature lounge dishes with delicacies from the Italian, Mexican, Chinese and Korean cuisines in the menus to be served to Qantas' customers in Los Angeles Business Lounge.
The multimillion dollar lounge is a signature statement on luxury in service to travelers on ground by three leading airlines. The ambience of the lounge is ideal for relaxation, refreshment and work at a cozy pace. The sitting areas consist of well-refurbished, plush seats. Qantas Airlines has partnered with Sofitel to let guests experience the same service standards in Los Angeles as the Sydney, Melbourne, Hong Kong and Singapore lounge services. Qantas' First Class travelers, Platinum Frequent Flyers and Oneworld Emerald members can enjoy a host of additional services including shirt pressing and shoe shining.
The development of Los Angeles Business Lounge is still in progress. The lounge can accommodate 400 guests, at the present phase. The capacity will be increased up to the strength of 600 guests, once all phases are fully developed in early 2015. Upon completion, it will have 16 shower suites in total and a dedicated family zone with space for kids. Qantas's signature First Class Lounge with capacity for 200 guests is at the initial phase of refurbishment, at Los Angeles International Airport.
IndianEagle.com is the only trusted portal for online booking of cheap flights with Qantas Airlines, British Airways and Cathay Pacific Airlines from Los Angeles and other US cities.