The forceful dragging of a passenger holding a confirmed ticket from an overbooked United Airlines plane departing Chicago for Louisville in 2017 not only shocked travelers worldwide but also brought a question to the fore, "Why do airlines overbook flights?"
Overbooking of flights is a common practice in the international segment of the airline industry. In 2016, 475,000 travelers were denied boarding by major US-based airlines for various reasons including overbooking of planes. It included about 41,000 passengers who were removed involuntarily from overbooked flights in the same year.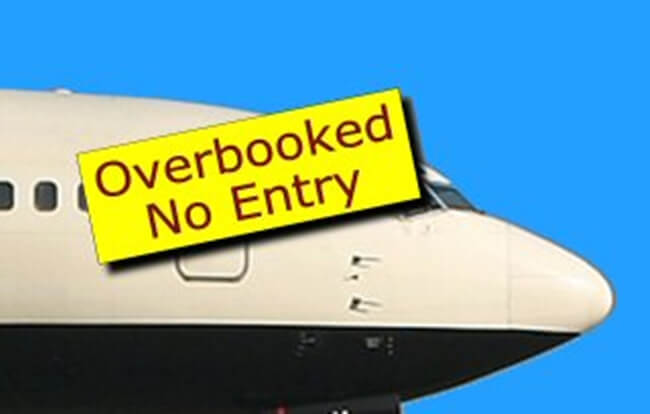 DGCA Rules against Overbooking of Flights  
What happened to the passenger of United Airlines' overbooked flight to Louisville in 2017 has not yet occurred or come to surface in India. But, overbooking of flights is on the rise in India too. Domestic airlines' selling of more confirmed tickets than the actual number of seats available on a plane has become a gnawing concern in India. It's evident from the denial of boarding to 12,957 travelers on domestic flights in India from August 2016 to February 2017.
The increasing incidence of denying boarding to some passengers due to overbooking of flights has propelled the Directorate General of Civil Aviation (DGCA) India to come forward to the aid of travelers.  Recently, aviation regulator DGCA India mandated it for airlines to adequately compensate for denial of boarding or seats to passengers having confirmed tickets.
In reply to the petition that a lawyer filed with the Delhi High Court, questioning the validity of the 2010 DGCA rules regarding overbooking of flights, DGCA confirmed that a passenger is rightfully entitled to compensation for denial of boarding to or seat on an overbooked plane. Air India expressly agreed with DGCA.
It was ascertained at the Delhi High Court that distressed passengers could approach a civil and consumer court to claim compensation for the inconvenience or damage (physical, mental or monetary) caused by denial of boarding on grounds of overbooking. The 2010 DGCA rules entitle travelers to compensation in form of alternate flight, refund of fare, and / or monetary compensation which is not limited.
Also Check: What Facts You don't Know about Airplane Food 
It is not necessary that the domestic leg of one's international itinerary must be hassle free. On arrival in Delhi, Mumbai, Kolkata, Chennai or Hyderabad from USA or somewhere else, you may find yourself among the few unlucky passengers to be denied boarding due to the operating airline's overbooking of seats on the domestic flight.
Apart from refund of the fare that you pay for a domestic flight in India, you are entitled to a compensation of INR 2000 for a block time of up to 1 hour, INR 3000 for a block time of 1 to 2 hours, and INR 4000 for a block time of over 2 hours. Block time is the time that a flight takes from departure to arrival.
Do note that you are also entitled to compensation based on block time in case you are denied boarding or seat on an international flight. The compensation may be more than that for block time of a domestic flight.
"Most of the time, travel agencies bear the brunt of overbooking. Travel agencies have neither knowledge of nor control on airlines' overbooking of flights. Airlines decide on whom to select for voluntary or involuntary removal from an overbooked plane at their sole discretion, which travel agencies have nothing to do with. It is said that airlines mostly select the passengers who use the frequent miles program or get heavy discounts to pay the least for a flight," said the chief travel economist of Indian Eagle, a leading international company in the business of making air travel cheaper.
Overbooking of flights is not illegal, according to the US Department of Transportation. But how many seats an airline can sell twice for a single flight, is not clear in the Federal law. To avoid operating a plane with empty seats, airlines overbook the plane anticipating some cancellations and 'no-shows' based on the historical flight data.