British Airways is the national carrier of the United Kingdom and one of the international airlines. British Airways flies to more than 150 destinations across 69 countries in 6 continents. It has a generous baggage policy for travelers flying from the United States to India, in compliance with the standard baggage rules of global aviation. Indian Eagle shares details of British Airways' check-in baggage allowances as per the latest information from the airline itself.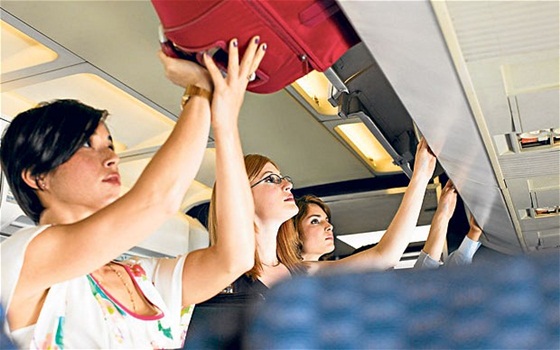 British Airways' checked baggage allowances are different for domestic flights in Europe and international flights to the rest of the world. In general, the airline permits a checked bag of 208 cm in total of three dimensions – height, length and width. This permissible dimension includes that of the handle, wheels and outer pockets. A larger checked bag measuring a total of 230 cm incurs additional charges. Currently, British Airways does not charge additional fees for a larger checked bag of this dimension. But any baggage bigger than this will be charged for shipping.
Economy Class passengers can carry 2 checked bags; each weighing maximum 23 kg on British Airways' connecting flights between USA and India. The same is the checked baggage allowance for children under 2-11 years traveling in the Economy Class. British Airways permits travelers to carry one standard-sized bag, one fully collapsible stroller and one car seat on tickets for infants (under 2 years) during USA-India flights. The airline offers the same free checked baggage allowance to premium Economic Class travelers on all US to India flights.
The First and Business Class travelers can carry three free checked bags while flying with British Airways on the same route. Each bag must not weigh more than 32 kg. The free baggage allowance for children and infants traveling in the First and Business Classes is the same as for those in the Economy and Premium Economy classes. British Airways makes separate arrangements for the carriage of sporting equipment and musical instruments under permissible free baggage allowances.
British Airways' free hand baggage policy allows adult and child travelers to carry one hand bag and one personal bag in the cabins of all travel classes. The airline permits only one hand bag, no personal bag to infant travelers under 2 years. A total of 126 cm (including three dimensions) is the size limit for cabin bags. Personal bags must not measure more than an overall dimension of 101 cm in size. 23 kg is the maximum weight limit for cabin and personal bags on all British Airways' flights from USA to India.
CLICK to Check British Airways' New Cabin Baggage Policy
Key notes:
• If you buy any item at a departure airport while traveling with British Airways, it will be considered part of the hang baggage.
• If you exceed the free hand baggage allowance in size or weight, you need to check in the excess part of the hand baggage and pay an additional fee.
• You must keep the personal bag under the in-front seat on plane.
• All aircraft in British Airways' fleet may not have enough space for safe stowage of all hand bags on board. In this case, you may be required to check in one of the hand bags at the boarding point.
• If a connecting flight with British Airways involves another airline, baggage allowances of the two airlines may be different.
• If your fair type or ticket type entitles you to carry only two free hand bags within the size and weight limits, you will have to pay for extra baggage at the airport.
*British Airways may modify any details of baggage policy, baggage fees, baggage restrictions and excess baggage charges at any time and without notification.
Indian Eagle books cheap flight tickets to India from USA with British Airways flying to Delhi, Mumbai, Kolkata, Chennai, Hyderabad, Bangalore and Ahmedabad.
Call us at 1800-615-3969, and our travel specialists will address your queries about checked baggage allowance and free baggage policy applicable to your flights to India with British Airways.