American Airlines has taken delivery of the first Boeing 787 Dreamliner and unveiled the cabin interiors much to the surprise of the aviation industry. The much-awaited B787 Dreamliner is expected to innovate the way international air travel is experienced on board. With American Airlines' signature Business Suites, the brand new Boeing 787 will add to sophistication of air travel.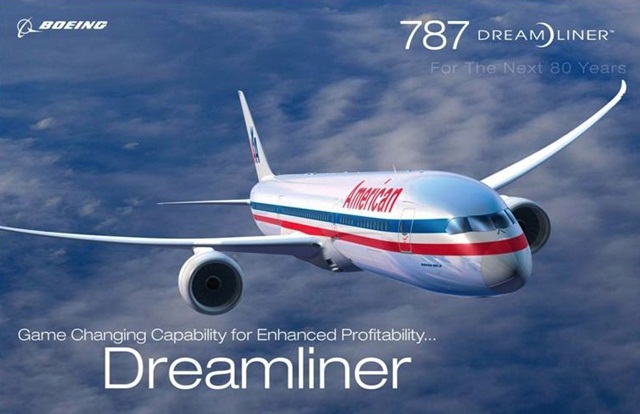 The Dallas-Chicago route has been selected for the first flight of the B787. American Airlines will deploy the aircraft to operate domestic flights between Dallas / Fort Worth (DFW) International Airport and Chicago O'Hare (ORD) International Airport on May 7. The new Dreamliner will be put to service for nonstop flights from Dallas / Fort Worth to Beijing Capital International Airport in China and Buenos Aires' Ministro Pistarini International Airport, in June this year. On delivery of more Dreamliners, other international destinations in American Airlines' network will be named.
With the B787 Dreamliner in our fleet, we are able to serve long-haul routes in our international network more efficiently than before. Now we can leverage our potential as one of the leaders in aviation to provide travelers with more comfortable, luxurious and modern flights. – Andrew Nocella, AA's Chief Marketing Officer.
The brand new Dreamliner consists of two cabins – Business Travel cabin with 28 full-flat seats and Main Cabin with 150 standard seats & 48 extra seats offering additional 6 inches of legroom. Each of the fully-flat seats with infinite adjustability in the Business Cabin is a business suite, which is a complete package of features & facilities required for a comfortable flight.
American Airlines' Business Cabin in B787 Dreamliner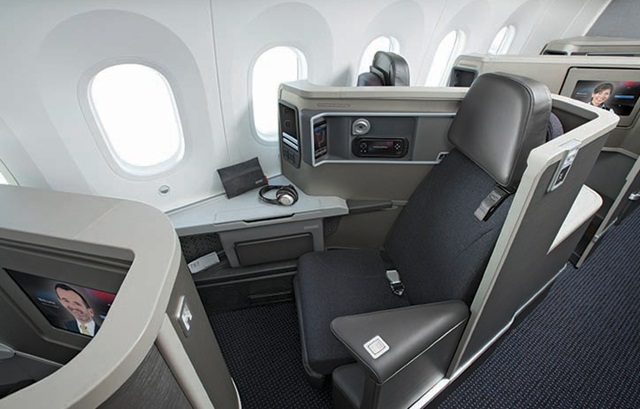 With a z-shaped lounge position, the Business Class seats roll out into flat 77-inch beds. Every seat comes with aisle access for ease of movement in the cabin, and table space to let the traveler stay productive in flight. Each of the seats in the Business Cabin gives access to dual AC power outlets and USB ports. The inflight entertainment system in B787 Dreamliner's Business Cabin features 16-inch touchscreen Panasonic monitors with access to a wide range of entertainment programs including 250 movies, 180 TV shows and above 350 audio programs.
With advanced engine technology, high-level fuel efficiency, better aerodynamics, lower operational costs and well-furnished cabin interiors, American Airlines' Dreamliner is all set to give United Airlines' Dreamliner a tough competition by raising the bar of excellence to a new high. – Indian Eagle
There are some other facilities in service to passengers in the Business Cabin of American Airlines' B787 Dreamliner. The business class travelers are provided with noise-cancelling headsets, and amenity kits containing products for refreshments. The Dreamliner's Business Cabin features a walk-up bar with a range of snacks and refreshments.
American Airlines' Main Cabin in B787 Dreamliner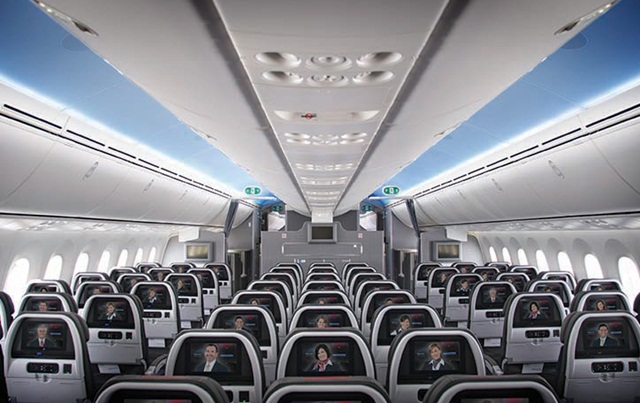 The new B787 aircraft's Main Cabin has many reasons, like the Business Cabin, for travelers to fly with American Airlines. The Main Cabin's ergonomically designed extra seats offer legroom with additional 6 inches for ease in stretching out. The in-seat features are the same as in the Business Cabin. The Main Cabin's in-seat entertainment system features the same audio-visual programs as in the Business Class.
Unique Highlights of American Airlines' B787 Dreamliner
The new Dreamliner features the largest electro-chromatic dimmable windows, and special ceiling design that gives a strong feel of spaciousness. The overhead bins are spacious enough for improved storage. With advanced air filtration system and new engine design facilitating low level of noise in both cabins, American Airlines' first B787 Dreamliner is a technology of excellence. Also, Wi-Fi connectivity is available in both cabins.
About Indian Eagle 
Indian Eagle is a fast-growing international travel organization booking the best & cheapest flights online. IndianEagle.com is a most user-friendly portal with simple online travel booking technology which gives safe access to a fair range of cheap flight deals from international airlines including American Airlines.