Earlier this month, the International Air Transport Association (IATA) called for a cut in dimensions of carry-on bags in a bid to optimize space in overhead bins of aircraft cabins. IATA suggested the dimension of 55x45x25 cm for cabin bags to be reduced to a dimension of 55x35x20 cm for convenient storage of carry-on bags in overhead bins. Even Lufthansa and Emirates Airlines agreed to accept IATA's proposal. However, IATA withdrew the proposal and put it on hold, a few days later, making it a reason for the passengers of Emirates and Lufthansa Airlines to rejoice.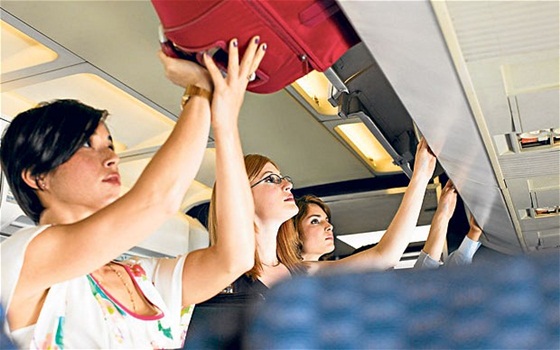 But, British Airways has decided to reduce the size limits of carry-on baggage for all flights. The decision will be implemented on and remain effective from August 18, 2015. No passengers with cabin bags larger than 40x30x15 cm would be allowed to board British Airways flights from August 18. 45x36x20 cm is the existing size of carry-on bags, according to British Airways' inflight baggage policy.
Passengers can continue to carry two pieces of hand baggage on flights with British Airways, and the second cabin bag (main bag) will remain unchanged in size, much to the pleasure of travelers. The decision to reduce the dimensions of one cabin bag resulted from an increase in the number of customers flying with hand baggage, exceeding the storage capacity of overhead bins.
Handbags and laptop bags within the new size limits will be marked with a yellow tag facilitating easy boarding of passengers into the World Traveller Plus (Premium Economy) and World Traveller (Economy) cabins, at departure airports. Only the hand baggage with yellow tags will be allowed on board.
Cabin bags exceeding the new size limits will be checked in. Passengers may be asked to pay for checking in extra bags if the total number of check-in bags exceeds the permissible collective weight, according to British Airways' check-in baggage policy. If overhead bins become full on very busy flights before all passengers are boarded, some passengers at the end may be asked to check in their carry-on bags without yellow tags.
British Airways expects passengers to comply with its new hand baggage policy so that flights can depart on time. The airline is looking to maintain punctuality and ensure convenience for passengers at the same time.
CLICK to Check British Airways' Baggage Policy for Flights to India
Indian Eagle books cheap flights from USA to India with British Airways flying to Delhi, Mumbai, Kolkata, Chennai, Hyderabad, Bangalore and Ahmadabad.
Call us at 1800-615-3969, and our travel specialists will address your queries about checked baggage allowance and free baggage policy applicable to your flights to India with British Airways.