Any locale that comes under the Western Ghats, experiences a strong influence on its weather conditions. The Agumbe village located in the Shimoga district, Karnataka receives the highest rainfall in Southern India.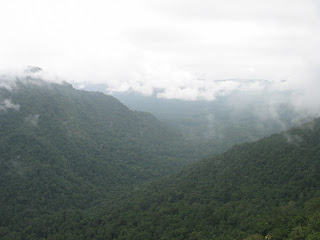 Monikered the"Cherrapunji of the South" it boasts of having the only permanent rainforest research station in India. The Agumbe Rainforest Research Station was established to conduct experiments to observe the behavior of recycling water.
The lush and thick foliage has made it convenient for the King Cobra to seek refuge, Agumbe is known as the capital of the King Cobra.The biodiversity hot-spot has some rare medicinal plants that are protected for their value in the field of medicine.
The annual rainfall received is between 4000 mm to 8500 mm. Set at a height of 2,000 feet above sea level, tall cliffs obstruct  the drifting winds. The vegetation resonates with the echo of whistling thrushes, fulvettas and bulbuls.A haven for the rare species the Lion-tailed Macaque can be spotted in their natural surroundings.
Agumbe is known for its different waterfalls like Barkana Falls, the 10th highest waterfall in India.It drops from a height of 850 ft/259 mts, formed by the Seeta River.The other falls are the Onake Abbi Falls, Jogigundi, Koodlu theertha and Kunchikal Falls that attract crowds to this picturesque tourist spot.
IndianEagle has Lowest Airfares to Karnataka.Check prices at www.indianeagle.com