Flowers in the morning can give a sense of quiet in a crowded day – like writing a poem or saying a prayer-Anne Morrow Lindbergh
This proverb is befitting to describe Bengaluru, the Garden city. Synonymous with beauty and serenity, home-grown Flowers are exported from Bengaluru to the rest of the world. Also known as a hub for India's information technology sector, Bengaluru is also dubbed as the pensioner's paradise for its Parks and Gardens.
Varieties of Roses in Red, Yellow, Orange are exported to UK, Germany and Netherland), Middle East (Dubai, Sharjah, Abu Dhabi, Saudi Arabia) and Far-Eastern (Singapore, Malaysia) countries including Japan. Annually, 6 million roses are exported including Gerbera, Anthuriums, Gladiolu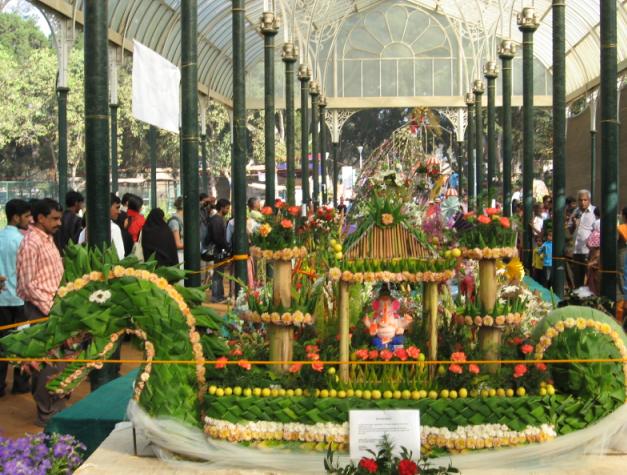 s.
These magnificient flora are cultivated in farms and tended to with utmost care. A sight to behold, the weather of Bengaluru is perfectly suitable for nurturing flowers. Bengaluru has two landmark Parks known for their floral splendour.
The lush greenery at the botanical garden, Lal Bagh is spread across 240-acre with 1000 species of flora. The central attraction is the Glass house, modeled after the Crystal Palace in London. A major tourist attraction is the Annual Flower show, showcasing floral decoration in vivid colors and themes.
The Cubbon Park has 96 varities of plants including Umbrella trees, red silk cottons, champa (Sampige), and flame of the forest. The landscaping creatively integrates natural rock outcrops, bushy thickets of trees, massive bamboos, flowerbeds. The predominantly green area has well laid out walking paths for early morning joggers. The tranquil natural environment has made Bengaluru a favorite with tourists.
Indian Eagle recommends an escape from the maddening crowd. Pack your bags to Bengaluru, recharge yourself amidst nature. Find Great deals on Lowest Airfares to Bengaluru at IndainEagle.com for a rejuvenating experience.