Monikered the Niagara of India, Athirappilly Falls can be found in the Athirappilly panchayath in Thrissur district, Kerala.The 24-meter (80 ft) waterfall is a favorite for filming important scene in Southern India.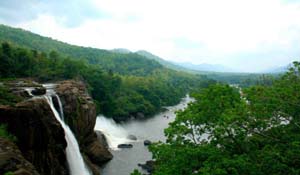 Noted Filmmaker Mani Ratnam has always had a soft spot for cascading marvels. It's no wonder, his major films like 'Raavan' filmed the climax scene with Aishwarya Rai, Vikram and Abhishek Bachchan at this very place. 'Dil Se' and 'Iruvar' too have canned a few shots against the waterfalls. 'Guru' had a complete song sequence with the lovely Aishwarya at the Falls.The Malayalam film industry has managed to incorporate many prominent scenes with the lovely locales.
The best place to visit in Kerala, the Athirappilly Falls are along the Chalakudy River. The placid river originates in the upper reaches of the Western Ghats. Any geographical location in India, part of the Western Ghats, is abundant in bountiful foliage and flora. The view is  breathtaking and has turned out to be a popular picnic spot.
The Athirapally Falls join the Chalakkudy River from a drop of 80 feet. The water flow increases drastically during the monsoon.The water falls into three segmented columns which  can merge and span the entire width of the Chalakudy River.This happens during sustained downpours, just like the Ntumbachushi Falls in Zambia.
The 145 kilometers stretch of the River Chalakudy flows through the Vazhachal Forest towards the Arabian Sea. The force with which the water hits the rock, separates the gushing water it into three different plumes.
Mani Rathnam fan or not, The Athirappilly Falls  will charm you.Indian Eagle makes the best offer on trips to Kerala with cheap flight tickets.Visit www.indianeagle.com for fair deals to India.