If Darjeeling is the paradise of Bengal in East India and Kashmir is the paradise of North India, Mount Abu is the paradise of Rajasthan in West India. Some US and Canada travelers having little knowledge of Indian tourism are under the impression that Rajasthan is all about forts, temples, sands, camels, fairs and festivals. They are partly right because Rajasthan has a beautiful hill station to their surprise. Nature makes itself felt through lush greenery, peaceful lakes and scenic sunset in Mount Abu, a far cry from aridity and scorching heat of the desert. We would like to quote Mr. Vivek Agarwal (an NRI from America and one of our valued customers) in this context. In his words, "Mount Abu is one of the best hill stations in India for romance with nature and praise of its beauty".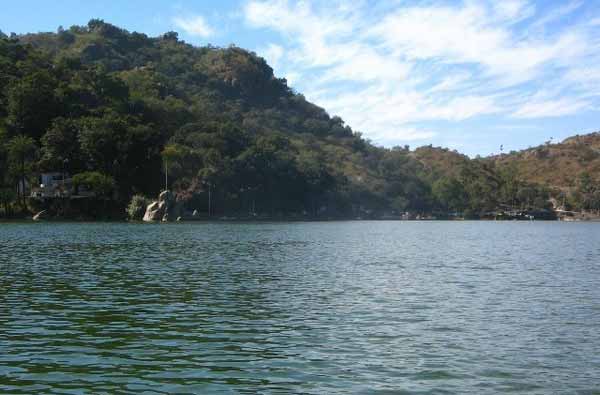 You might wonder why we are so eloquent about this tourist attraction of Rajasthan. Let's explore Mount Abu and check if Mr. Agarwal is right.
What to see in and around Mount Abu
Achalgarh Fort: The only fort at a short drive from Mount Abu Town. Rajasthan tourism means visit to forts. Built by Rana Kumbha of Mewar, Achalgarh Fort is a mammoth medieval monument enclosing several temples within the boundary. The Achaleswar Mahadev Temple and the Kantinath Temple are the oldest ones. Standing tall in the countryside, the fort is a must see for its rural charm.
Nakki Lake: Part of the sightseeing around Mount Abu, Nakki Lake is a photographic spot surrounded by various rock formations and green landscape at an altitude of 1200 meters above the sea level. Boating on the lake, under the evening sky and with the setting sun as backdrop, promises moments of romance adding to the pleasure of Rajasthan travel.
Sunset Point: The spot to experience the natural best of Mount Abu. Travelers start their days with views of the rising sun at seaside destinations. The picture is just opposite in Mount Abu. At this Indian hill station, travelers breathe in joys from the enchanting views of sun setting behind the mountains. The beautiful sunset has made Mount Abut a favorite of travelers from the US and Canada.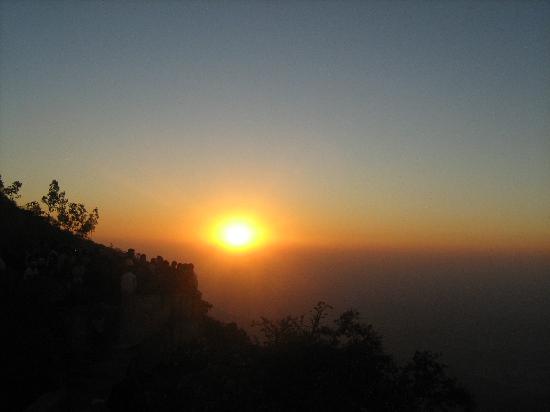 Guru Sikhar: The topmost point of Mount Abu in the Aravali range of mountains. Breathtaking views of the panorama sweeping around the Aravali range from Guru Sikhar are sure to make your Mount Abu travel a memorable one. The divinity of nature is overwhelmingly felt here. Moreover, Guru Sikhar is associated with references to the Hindu mythology of India.
Wildlife Sanctuary: The region of wilderness with many sightseeing points in the Aravali mountain range. Rich in the flora and fauna of deserts, the Mount Abut Wildlife Sanctuary is part of eco-tourism of Rajasthan. Spreading over 7 kilometers, the sanctuary is known for its floral beauty and a wide range of birds as well as animals. This part of Mount Abu is full of interests for bird-loving travelers. The list of Mount Abu attractions is endless.
Shopping for souvenirs in Mount Abu
Mount Abu has markets in the surrounding areas other than temples and adventure spots. The local market around Nakki Lake is the most famous shopping destination. Shop for souvenirs, gemstones, metal pots, Rajasthan textiles, handcrafted jewellery and various other items made by local artisans, here. Mount Abut is a shopper's paradise for those seeking to buy Rajasthani handicrafts.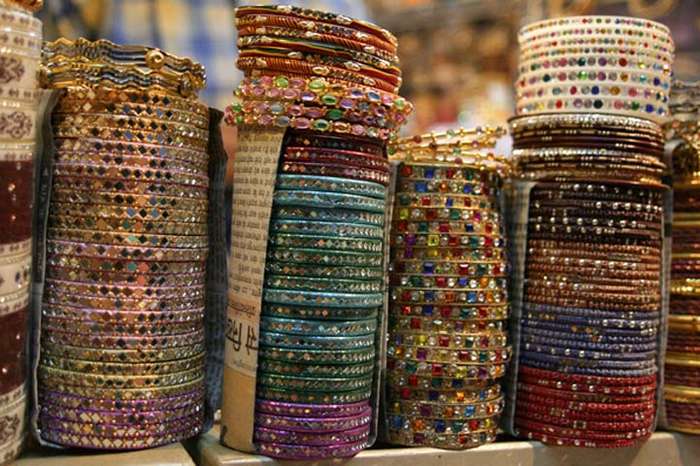 Things to do in Mount Abu
Mount Abut lets you do many things and pursue various activities to enjoy yourself. Boating, trekking, horse safari, shopping, camping, bird watching, sunset watching and likes are the pleasurable activities for travelers to indulge in. These things to do in Mount Abu offer a miasma of peace, joy and thrill.
We are not sure if this abstract picture of Mount Abu tourism appeals to the nature-loving traveler in you. However, we assure that you will find the real picture of the hill station appealing to your senses, on a tour to Rajasthan. IndianEagle.com offers the opportunity for the cheapest air travel to Rajasthan in India. And, you will have to agree with Mr. Agarwal.