Far from the maddening crowds, tucked in greenery and clean surroundings is the picturesque town of Kolad.100 kms away from Pune, Kolad falls under the Mahad region,Maharashtra.Kolad is a part of the Sahyadris mountain range, running from north to south India, along the western edge of the Deccan Plateau. Kolad has an added advantage with the Sahyadris forming the perfect backdrop.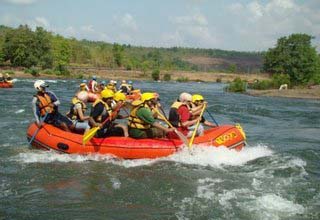 The magnificent valley and marshlands have turned Kolad into a tourist destination. Often referred to as a backpacker's delight, Kolad's population is very thin.The serenity will charm anyone seeking a getaway from the hustle and bustle of deadlines and work stress.
The fastest flowing Kundalika River attracts adventure seekers to its Whitewater Rafting. The advantage of rafting in the River Kundalika is that its "dam controlled". Rafting is enjoyable as rapids generated by rushing water released from the Mulshi and Bhira Dams, early morning at 6 am are regulated.Rafting becomes easier in the structured waters of the Kundalika River.
It is the only rafting facility operational all around the year in India. The advantage offered is the Grade.The Higher the Grade, more the level of difficulty. Grade II and Grade III rapids set the level of difficulty over a 14 km circuit.
The peak season is during the monsoons when the water levels are high. Indian Eagle recommends you to go on a refreshing trip to Kolad.
Trekking, paragliding, river crossing and kayaking in the lap of nature.Cascading waterfalls,rugged topography and Rocky Mountains. Visit www.indianeagle.com for an adventurous trip at the Lowest Airfare guaranteed to Maharastra.