Indian Prime Minister Narendra Modi's visit to the White House and meeting with US President Barack Obama is one of the most awaited Washington DC events in June 2016. During his two-day trip to Washington DC, PM Modi will address a joint session of the US Congress and hold talks with President Obama at the White House on June 7-8. He will also meet the Indian American community in Washington DC.
PM Narendra Modi's schedule in Washington DC includes a bilateral meeting with President Barack Obama to discuss progress of the US-India relationship in key areas such as economy, security, defense, energy and climate change, according to a statement by Josh Earnest, the White House Press Secretary. Both the US President and the Indian Prime Minister will assess the progress of their collaborations in clean energy, climate change, security & defense and economic growth projects.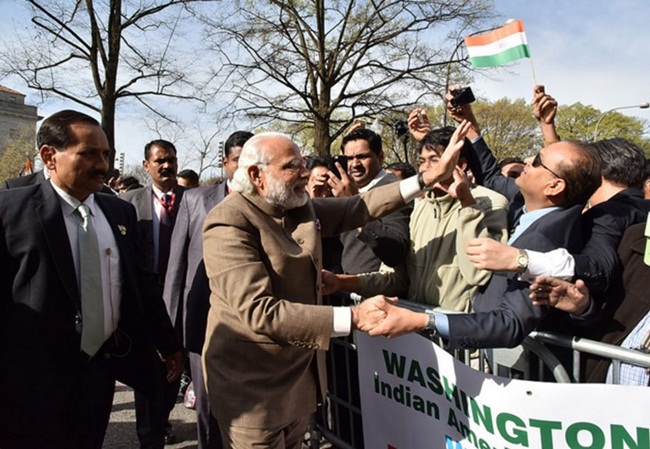 "We are excited to welcome PM Modi to our city. It is the biggest of all Washington DC events in June for the Indian American community," said Sunil Singh, who heads a 60-member committee comprising leaders of the Indian American organizations in Washington Metropolitan Area. A 100-member group of high-profile Indian Americans is expected to welcome PM Modi at the Andrews Air Force Base on June 6.
When Narendra Modi will be addressing the joint session of the US Congress at the White House on June 8, nearly one thousand members of the Washington DC based Indian American community will watch the proceedings from Capitol Hill. Only the invitees of the US Congress members will be present at the White House during the session. Sunil Singh, a prominent NRI businessman, said that PM Modi's speech and his discussion with President Obama would be shown live on large screens for those outside the White House.
PM Narendra Modi's schedule in Washington DC may include a speech to the Indian American community since the NRI committee led by Sunil Singh has requested the Indian Embassy for it. Transport will be arranged from Maryland and the suburbs of Washington DC to Capitol Hill for the community members. The same group of prominent Indian Americans will see off PM Modi at the Andrews Air Force Base on June 8.
Paul Ryan, the Speaker of the US House of Representative, has reportedly invited the Prime Minister of India for a ceremonial lunch after the congressional session at the White House. It is also reported that Arun Kumar Singh, Indian ambassador to the United States, is planning to host reception for Prime Minister Modi on June 7.
PM Modi will leave for Washington DC after a two-day visit to Qatar on June 5 and 6.
Travel Beats is a digital news portal for Indians and NRIs by IndianEagle, a leading international organization booking travel from the US to India. It publishes the latest news and stories from India and USA.