Qatar Airways' brand new Al Mourjan Business Lounge at Hamad International Airport is the talk of the global aviation industry, at present. Hamad International Airport is the biggest wonder of the year 2014 in aviation till date. It is followed by the launch of a super luxury lounge for premium passengers. Sprawling over 10, 000 square meters, the uber-modern Al Mourjan Lounge is a unique signature of the Qatari hospitality.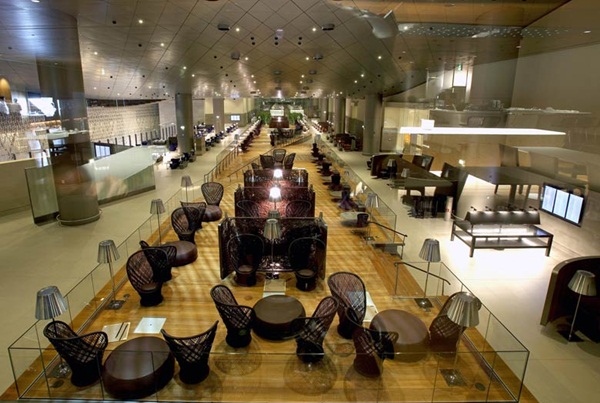 With bespoke design features, sophisticated interior décor and five-star service, Qatar Airways' premium lounge has touched a new height of airport luxury making it almost unsurpassable for other lounges in terms of refurbishment, refreshment, comfort, convenience and glamor. The airline is all set to exceed premium passengers' expectations by having redefined the lounge ambiance.
Backed by high-end lighting technology, Al Mourjan Lounge offers a fresh, relaxing ambiance with lots of natural sunlight. Spreading out over two levels, the lounge is colossal in size. To say precisely, the area of Al Mourjan Lounge is equal to that of 10 Olympic size pools. The lounge is spacious enough to accommodate 1,000 visitors at a time.
Qatar Airways has set a new parameter of dining excellence as an epitome of its hospitality on ground. Al Mourjan offers a comprehensive menu of culinary choices from quick light bites to stomach-fulfilling delicacies in the mezzanine area. After gastronomic refreshment, passengers can idle away the time breathing in serenity by the poolside. The pool area is dimly lit by a spectacular four-tiered chandelier.
Al Mourjan offers several options for relaxation and rejuvenation. Individual passengers can lie back in private rooms equipped with essential amenities. There is dedicated space for family travelers. The lounge has a children's play area with videogames and F1 driving simulator. Guests can refresh themselves in state-of-the-art shower rooms where complimentary toiletries are available for use. The lounge also consists of prayer rooms and a smoking zone.
Al Mourjan Lounge features dedicated arrangements ensuring high-level convenience of business travelers. There is a high-end conference hall with Wi-Fi for business meeting or seminars. There are Internet-supported workstations with printers and scanners for individual passengers. The lounge offers multi-purpose executive seating with reading light and power outlets. Time-to-time flight information is displayed throughout the lounge.
The lounge is open to the First and Business Class travelers of Oneworld partner airlines, apart from Qatar Airways' premium passengers. Besides Al Mourjan Lounge, there are Oryx Lounge, Al Maha service lounges, Gold, Silver and Premium lounges in the departure and arrival areas of Hamad International Airport, Doha.
Indian Eagle books cheap flights from the United States to India with Qatar Airways. Book your trips with Qatar Airways on IndianEagle.com at the lowest airfare.
Also Check Why You Should Travel on Qatar Airways