We are standing on the threshold between 2019 and 2020. We saw the worst of aviation in 2019, from the collapse of Jet Airways to the crash of an Ethiopia-bound B-737 Max 8 to the denial of boarding to OCI card holders at certain airports. The future of Air India has been in doldrums throughout 2019, and the airline – once a pride of the nation – is approaching an uncertain fate in 2020. Millions of travelers worldwide are anticipating improvement of air travel in the New Year.
Indian Eagle, a leading travel booking partner of Indians in USA, deliberated over the four ways air travel between USA and India can improve for lakhs of Indians and their parents in 2020. After all, USA to India is one of the busiest and most profitable sectors of aviation for several airlines.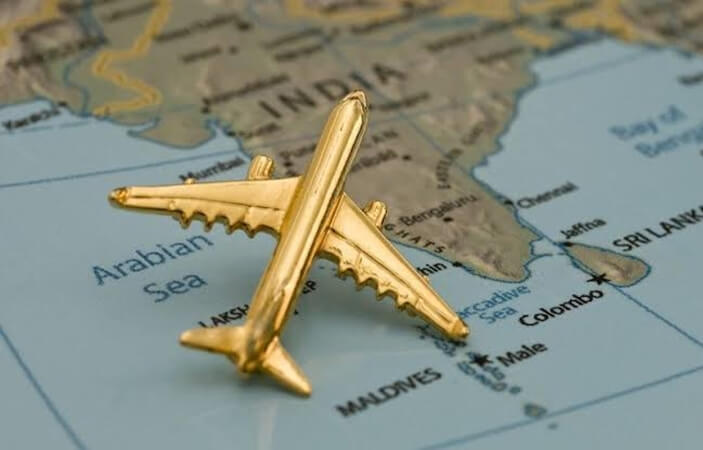 The OCI card application and renewal procedure should be simplified in 2020. Apart this, whether the OCI card is a lifelong visa to India or not, should be unambiguously defined in the recent wake of denial of boarding and trip cancellations over the strict enforcement of the OCI card validity guidelines on those below 20 and above 50 years of age. Though the enforcement of the OCI card validity rules has been relaxed till June 2020, Prem Bhandari, an Indian-American community activist, demands that Indian government should clear the confusion whether the OCI card is a multipurpose lifelong visa. He argues if the Overseas Citizen of India card has lifetime validity, why it is mandatory to get the card reissued once the passport is renewed.
More Direct Flights to and from India 
Scores of Indians in America are looking forward to more nonstop flights between USA and India in 2020 for the shortest travel time. Direct flights to and from India not only ensure hassle-free travel for senior citizens and minors flying unaccompanied, but also complete long-haul journeys in lesser time than indirect flights. Besides the largest number of direct Air India flights between India and USA, Delta Airlines and United Airlines have started operating New York to Mumbai direct flights and San Francisco to Delhi nonstop flights respectively.
Indians in Georgia, Texas and Washington have long been anticipating direct flights to India from Atlanta, Houston/Dallas, and Seattle respectively. The Indian community in these three US states is growing by leaps and bounds. The Dallas-Fort Worth metropolitan area is home to the Indian population of 145000, and 125000 Indian-origin people reside in the Houston metro area, according to a 2015 report by the Pew Research Center. Georgia's Atlanta metropolitan area houses a little more than 100000 Indians, as per the same report.
May Economy Air Travel be Decent!   
The economy section of major international airlines is shrinking to make way for their premium economy space. Early in 2019, nearly 250 aircraft in the feet of United Airlines were fitted with an additional 1600 premium seats; each can fetch almost twice the fare of an economy class ticket. The rival carriers – Delta Airlines and American Airlines – followed the footsteps of United Airlines. Some other airlines have gradually been shrinking legroom to cram in more seats on economy flights. Not only legroom, but also seat pitch and seat width are being reduced to make economy air travel a test of physical endurance for millions of economy flyers.
Older generations who do still travel by air rue the poor state of economy flights because of reduced distance between two seat rows, smaller seats, crammed space and receding legroom.
Facilities for Senior Citizens Traveling Alone   
A sizable number of parents of Indian students and professionals in the US travel unaccompanied thousands of miles to the US. Though Indians in American look for reliable companions for their parents' unaccompanied travel, in such online communities as Travel Solutions for Indian Parents, airlines should come up with special services for unaccompanied senior citizens' hassle-free travel. Air India's Namaskar Sewa for those traveling alone and senior citizens-friendly facilities on Etihad Airways flights between USA and India are a must mention in this respect.