Needless to say that Michelin-starred chef Vikas Khanna's Junoon Restaurant in New York is one of the best Indian restaurants in USA. Though Junoon is founded and owned by Chef Vikas Khanna of international repute, whose documentary film Kitchens of Gratitude on the unifying power of food was screened at the 2016 Cannes Film Festival, the restaurant owes its distinction of serving the best Indian food in New York to the head chef Aarthi Sampath.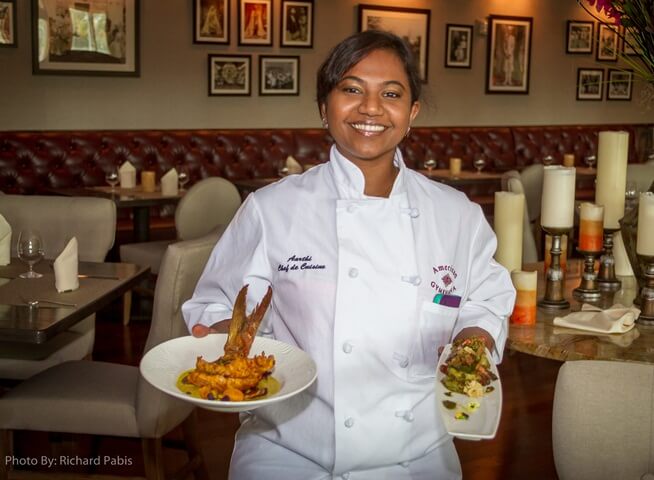 Aarthi Sampath, the chef de cuisine of Junoon, is currently in the spotlight of the culinary world for having won Food Network's cooking show "Chopped." The magic of the Indian delicacies that she cooked in the show earned her the title of "Chopped" and a cash prize worth $10,000 besides acclaims from the judges including leading food critics.
Chopped is a cooking competition show on Food Network, with focus on speed, creativity and presentation. Four chefs compete with each other in the final round of the competition. They are provided random ingredients to cook a three meal course with.
"Cooking a dish only in 20 minutes is one of the toughest things I have done in my life and then being subjected to criticism is not easy. However, I feel accomplished now. I can't gulp back my excitement for the new journey I am going to start. I feel like being one step close to my goal of inspiring women in India and across the globe," exclaimed Aarthi Sampath heaving a sigh of relief.
A student of the Institute of Hotel Management in Jaipur, India, the Indian American chef started her career with the Taj Hotel group. She honed her culinary skills in various Indian cuisines by working in Mumbai, Delhi, Hyderabad, Chennai and other Indian cities before she joined Johnson & Wales University in Rhode Island in the United States.
On completion of the university program, Aarthi got internship at Junoon in New York City. In a very short time, she became chef de cuisine (head chef) of Junoon for her creative ability to blend modern culinary techniques with traditional Indian cooking styles.
Working with Chef Vikas Khanna on "The Billionaire's Club Dinner" hosted by none other than India's Prime Minister Narenda Modi at the Waldorf Astoria in New York City is another milestone in Chef Aarthi Sampath's career.
Travel Beats is a digital publication by IndianEagle, a leading US-based travel organization for the Indian American community. Subscribe to Travel Beats' free newsletter for interesting stories and news about Indian Diaspora.