The 15th season of American Idol got a 20-year old Indian American among the finalists. Sonika Vaid from Massachusetts is the Indian-American contestant who stole the show with the judges and the audience in the first episode of the final season of American Idol 2016. Sonika Vaid delivered a gripping rendition of "Look at Me" by Carrie Underwood, one of the former American Idol winners, in her soulful voice.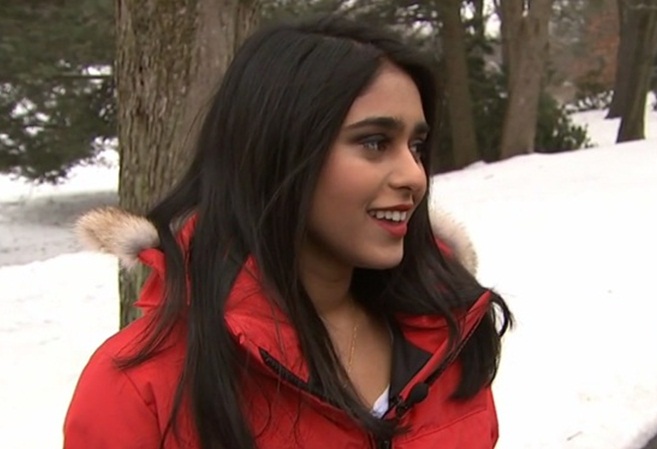 The judges of American Idol 2016 – Jennifer Lopez, Keith Urban and Harry Connick Jr – were so impressed with her performance that they gave her a standing ovation. Popular Hollywood actress Jennifer Lopez congratulated Sonika Vaid saying, "I loved it. I loved it a lot. You sing so pretty."
Not only Jennifer Lopez but also two other judges lavished her with praise. "This is one of the only times this particular season that I saw somebody that I actually think can win this thing," said Harry Connick Jr. ebulliently. Singer Keith Urban applauded her saying, "You sand beautifully. Perfect performance! I was totally engaged. Terrific job!"
Keith Urban added, "You were just so beautiful. You emoted it so well. You are going to Hollywood." Evidently Indian American Sonika Vaid successfully got a ticket to Hollywood where she will face lots of competition in the 15th season for the most coveted title "American Idol of 2016."
Since the broadcast of the first episode, Sonika has been making headlines as an early favorite to win the 15th season of American Idol contest. "The grand finale of American Idol 2016 has just commenced, but she already seems to be a winner," quoted a journalist from The Boston Globe.
Born to parents of Indian origin, singer Sonika Vaid has been singing since her age of three. She grew up performing on special occasions at a park in her neighborhood, Martha's Vineyard in Massachusetts. She spoke highly of her parents for their support and encouragement, during an interview.
"They started from having nothing in America after migration from India. They have always nurtured the American dream in their minds. I owe my ticket to Hollywood to my mom who has always supported me. She is my number one fan."
Singer Sonika Vaid is the third Indian American contestant to have reached the grand finale of American Idol 2016. Sanjaya Malakar and Anoop Desai were the first and the second contestant of Indian origin to make it to the final round of America's most popular singing contest in the 6th and 8th seasons respectively.
The young generation of Indian Americans is full of winning vibes. Recently, 9-year old Indian American Jasmy Mavilla won a prize of $45000 in the Ben's Beginners Cooking Contest for her shrimp masala rice recipe. – IndianEagle