With the Oscars just round the corner, all eyes are on that one special category, Best Production Design.The spotlight will be on the film which has used the camera to the optimum, while conjuring up a location. The Hobbit is a rare film shot in a real set, which has remained intact since 1999.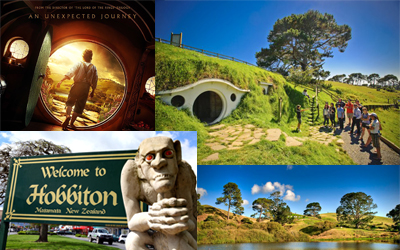 This year in the running for the Academy Award is The Hobbit: An Unexpected Journey, Life of Pi, Marvel's The Avengers, Prometheus, Snow White and the Huntsman.
The film that stands out for original location is "The Hobbit: An Unexpected Journey". Peter Jackson, the director scouted for locations across New Zealand by conducting an aerial search. He spotted the Alexander Farm and built the film around the lovely locales of Matamata. Dan Hennah (Production Design); Ra Vincent and Simon Bright (Set Decoration) have built the set from scratch.
A 1.5 km  road was built into the site. Barberry hedges and trees were imported and nurtured throughout winter. An impressive Thirty-seven hobbit holes were created with untreated timber, ply and polystyrene.The Mill and magnificent double arch bridge were built out of scaffolding, ply and polystyrene.It was painstakingly glued and painted.The result is there for everyone to see.
The perfect landscape of Matamata was transformed literally into the village, as described by J R R Tolkien, in his epic fantasy novel "The Lord of The Rings". The region is now officially called "The Hobbiton."The Prequel to the "The Lord of The Rings" film trilogy "The Hobbit" opens in the Hobbit civilization. The sets were built to blend seamlessly into the environment.
Construction began in March 1999 and ever since the New Zealand government has decided to leave the Hobbit holes as tourist attractions. A "Welcome to Hobbiton" sign has been placed on the main road and the deluge of tourists hasn't stopped.
The launch of the Lord of the Rings movies has placed Matamata on the Map. The film has made its way into the bucket list of Tolkein fans.
Discover the real Middle-earth, with Indian Eagle at the Lowest Airfares. Enjoy the most picturesque private farmland near Matamata in the North Island, New Zealand. Visit Indian Eagle for cheapest fares to New Zealand.