Prime Minister Narendra Modi has made 95 trips to 58 countries, including five visits to the United States, since he won the Lok Sabha elections in May 2014. A whopping Rs. 518 crore spent on PM Modi's foreign travel between 2014 and 2019 has not only made him a most enviable globetrotter, but raised curiosity about his Air India One aircraft worldwide. The Air India One Boeing 777 is all set for the Prime Minister's trip to Washington DC where President Biden will host the in-person Quad Leaders' summit at the White House on September 24, 2021.
Adding to the curiosity about Air India One deployed for foreign travels of India's VVIPs was the delivery of the two new Boeing 777-300ER equipped with the most advanced missile defence mechanism and mid-air communication systems. On October 1, 2020, the Boeing jet for the Indian VVIPs landed in New Delhi after a 15-hour flight from the US. A special team of Air India and Indian Air Force officials escorted the new Air India One plane from Dallas, Texas to India. Another custom-made Air India One B777 plane will be delivered later this year.
Air India One is the call sign of official VVIP flights that the Indian Air Force operates for Prime Minister or President's foreign trips. The Air Headquarters Communication Squadron at New Delhi IGI Airport helms the deployment of Air India One aircraft, the flying fortress, for the top three VVIPs' international state visits. (The President is VIP 1, the Vice President is VIP 2, and the Prime Minister is VIP 3)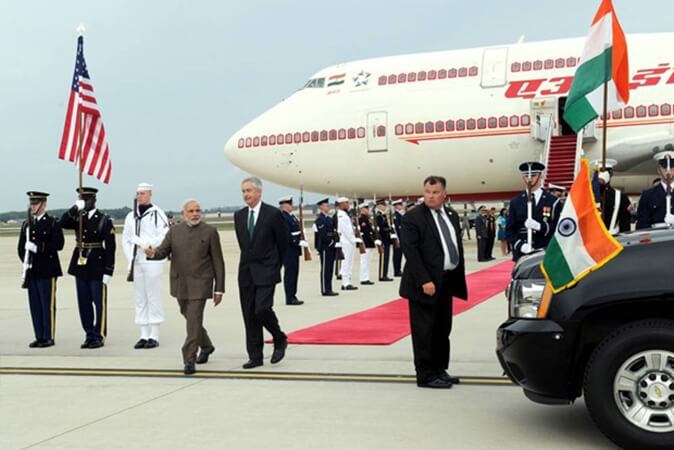 Air India's Boeing 747-400 has been used with the call sign, Air India One, for the top three VVIPs' foreign travel till date. The aircraft, when not in use for VVIP flights, is deployed for operating civil flights. However, the 26-year-old Boeing 747-400s will soon be replaced by two new Boeing 777-300ERs which will permanently feature the call sign, Air India One, and the Ashoka emblem.
The new Boeing 777-300ER took its maiden flight from Seattle to New Delhi for a display at the Republic Day celebrations in 2018. Both of the two new aircraft purchased for Air India One flights flew back to the USA and have been retrofitted with the world-class security upgrades there.
The new Air India One aircraft for the top three VVIPs of India have got the most advanced security makeover on the lines of US President's Air Force One and at a whopping cost of $190 million. The two B777 planes cost Indian government Rs 1084 crore. Rs 8400 crore is the total cost of purchase and configuration of the new Air India One B777 planes.
The $190-million security upgrade to Boeing 777-300ER for Air India One is an outcome of the US-India strategic relationship in defence. The Boeing 777s have been retrofitted with two systems – Large Aircraft Infrared Countermeasures (LAIRCM) and Advance Integrated Defensive Electronic Warfare Suites – upon US President Trump's approval of the same. These two defence systems will make Air India One as strong a citadel as Air Force One. Notably, the US is the second largest source of arms for India.
Besides radar warning sensors, missile warning receivers, anti-missile flares, intruder detection systems and a countermeasure dispensing system, Air India One has been fitted out with the most advanced communication technology, using which the top three VVIPs will be able to stay connected, both online and offline, all times. Furthermore, each of the new Air India One aircraft is fortified with 238-mile-long wiring to protect crucial electronics on board from electromagnetic pulses of a nuclear explosion. The Indian Air Force has not disclosed other security mechanisms.
There are a well-equipped conference room, an operation theater, a spacious bedroom and a special lounge inside the Boeing 777s for the Indian VVIPs' long-haul international flights. Each Boeing 777 can store food for nearly 2000 people. The engineering team of Air India will be maintaining the new B777 jets.
Usually, an Air India One flight has four pilots and a dedicated team of doctors and trained medical staff on board for unforeseen contingencies. A squad of specially trained officers is also deployed on all flights for the top three VVIPs.
Travel Beats, a subsidiary of Indian Eagle, is an overseas Indian community portal publishing latest Indian community, visa, immigration and aviation news. Indian Eagle is a leading air travel booking organization having a proven record in selling cheap flights tickets to India for economy and business.