We know the Padman of India, the Padma Shri-winning Arunachalam Muruganantham in Tami Nadu, a social entrepreneur who invented the low-cost sanitary pad-making machine for the menstrual wellbeing of women in rural India. Now let's meet the Indian American padgirl, Judith Monickaraj who is playing an agent of change for underprivileged women in India.
One of the girl scouts in the United States, Indian American Judith Monickaraj has recently received the Girl Scout Gold Award, the highest honor of the year for Girl Scouts of the nation. A resident of Rochester in New York, she is often referred to as a padgirl for her humanitarian project, Launch Pads for Change. She is currently working on her project for women's menstrual care in Pune City, India.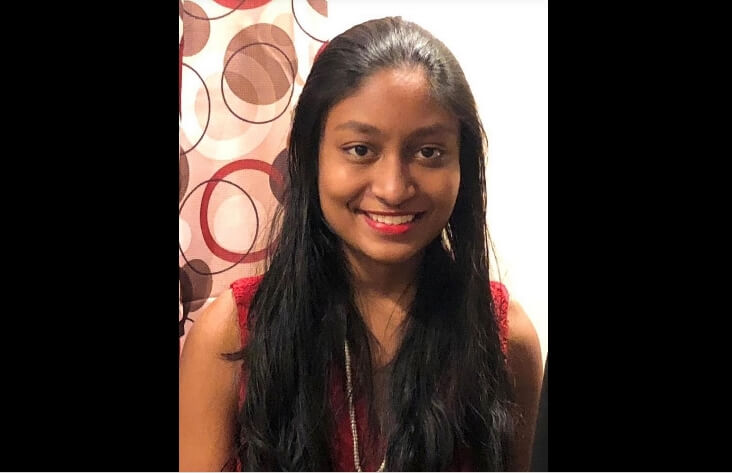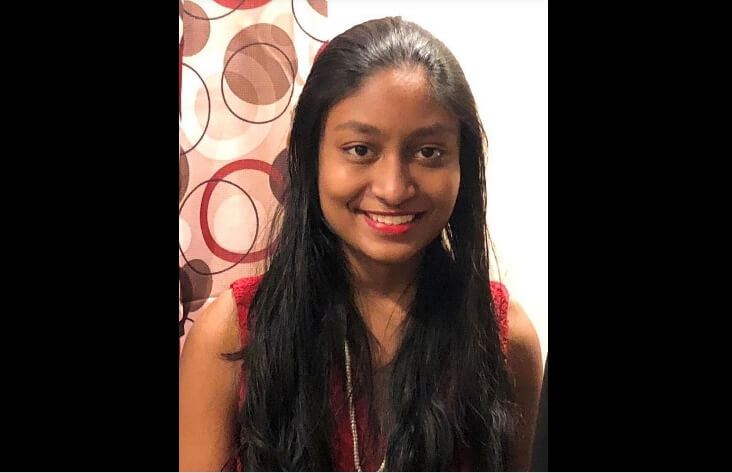 The 2018 Girl Scout Gold Award winner, Judith Monickaraj decided to take on the cause, economically disadvantaged women's lack of access to hygienic sanitary pads and lack of knowledge on menstrual hygiene, during one of her trips to India.
Like Arunachalam Muruganantham, Judith Monickaraj was driven by the eye-opening facts about the sorry state of women and girls during their menstrual cycles in India. She got a complete picture of India's socio-economic issues affecting the menstrual health of women in the lower rungs of society from her parents who grew up in India.
Judith Monickaraj from the New York Indian community sought collaboration with Koinonia Fellowship, a not-for-profit organization that supports a girls home in Pune by providing for their menstrual and medical needs annually. She learned how to make low-cost, reusable sanitary pads from a woman associated with Koinonia Fellowship, and started creating pads for women in developing countries like India, using a sewing machine, fabric, thread and Velcro.
Also Check: Devika Chhipa from Texas Educates Indian Women on Menstrual Hygiene
What the 2018 Girl Scout Gold Award winner found the most disturbing about poor women's menstrual health in India is that many girls either drop out of school or stay indoors during periods when they attain puberty. She wrote on her website, "As a woman who prioritizes her schoolwork, education and extracurricular activity, I could not imagine having such a disruption every month, with such a simple, yet unattainable, solution."
She formed a team with her mother, cousins and the other members of her Girl Scout troop to execute her project, Launch Pads for Change. Initially, she sewed over 100 reusable, handmade sanitary pads and donated to the girls home in Pune, India. A career aspirant in medicine, the New York girl wishes to continue her project for the sake of more and more women in India as well as other developing countries.
The Girl Scout Gold Award acknowledges each recipient's hard work, dedication and passion for not only empowering herself but also making a difference in the lives of others. The Girl Scout Gold Award winners, including Judith Monickaraj are visionary leaders and diligent change makers. Judith Monickaraj has worked on several community service projects individually and collaboratively, such as writing positive notes for the depressed, volunteering in a soup kitchen, and making goodie bags for kids in asylums.
This story is part of our continued effort at Indian Eagle to promote good work for noble causes by Indians in USA and the rest of the world. We not only continue to book cheap last minute flights from USA to India but also cater inspiring stories, community news and travel updates to Indian Americans through our free newsletters.