West Bengal Chief Minister, Mamata Banerjee is a versatile personality. She is known for her austere lifestyle, simplicity and her love of traditional Bengali culture. She is also famous for her paintings. She is a celebrity poet too. Recently, Bengal CM turned a lyricist. Neither for films nor for tele soaps. She penned a Durga puja theme song this year. (Find the video of the song below) 
TMC Chief Mamata Banerjee wrote the Durga puja theme song for a popular puja committee, Suruchi Sangha in New Alipore, Kolkata. Suruchi Sangha, one of the award-winning puja organizers in Kolkata, is known for their innovative, thought-provoking Durga puja themes. 'Unity in Diversity' is the theme of the song.
Mamata Banerjee's Suruchi Sangha theme song 2017 – "Boichitrer muktoy gantha ekotar monihar" (the jewel of unity is stitched with a string of pearls of diversity) – is sung by none other than Shreya Ghosal. Jeet Gannguli, popular in Bollywood and the Bengali film industry, composed music for the song.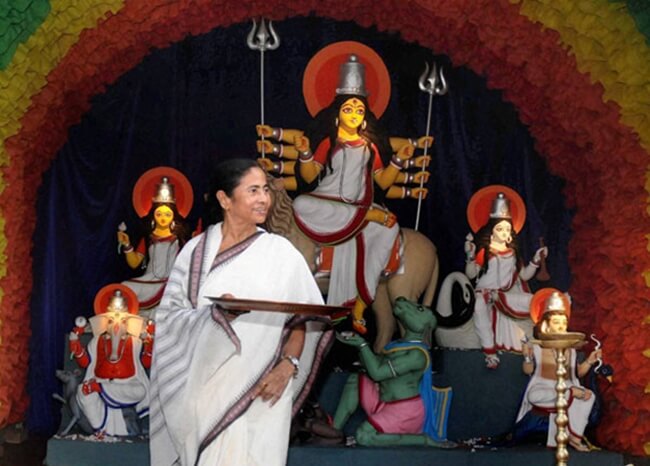 Theme music for the Durga puja festival is a new trend in the City of Joy. Bengal CM's theme song for Suruchi Sangha Durga puja 2017 is not her first tryst with lyricism. She penned lyrics for this city puja committee in the past.
Music composer and singer Jeet Gannguli has composed music for Alipore Suruchi Sangha's Durga puja theme songs for a couple of years. He has a heartfelt 'musical association' with Suruchi Sangha's Durga puja celebration.
Also Check: London Themes of Kolkata Durga Puja 2017
Recital is another emerging trend of Durga puja celebration in Kolkata. Known for one of the best Durga puja pandals and themes in Kolkata, Kumartuli Sarbojonin chose recital as theme music over song this year. Eminent actor Soumitra Chatterjee's recital of 'Ami Sei Diganto Asa Periye Asa Uttaradhikar' (I have walked through the past, I am the torch-bearer) is being played at the Kumartuli Sarbojonin puja pandal 2017.
Soumitra Chatterjee's recital depicts a heart-touching story of Kumartuli potters on the banks of Hooghly River. Kumartuli Sarbojonin has initiated the trend of playing recitals instead of songs to entice pandal hoppers and puja revelers, according to a spokesperson of the puja committee.
Also Read: Upcoming Bullet Trains to Kolkata
Tridhara Sammilani, another award-winning puja committee in Kolkata, roped in renowned music composer and singer Joy Sarkar for its Durga puja theme song 2017.
Durga Puja is neither just a festival nor merely a celebration. It brings in joy, innovation and new attractions. The enormity and significance of Durga Puja cannot be summed up in a few words. No wonder why many Bengali NRIs search for last minute airfare deals to India and book last minute flight tickets to Kolkata.