You will soon get soaked in luxury amidst sands of Jaisalmer in the Indian state of Rajasthan. You will also be traveling along a heritage circuit in North India on wheels of luxury. The Ministry of India Tourism is going to launch two trains for affordable luxury travel in India this winter.
There are super luxury trains in India – Palace on Wheels, the Golden Chariot, the Deccan Odyssey, and Maharajas Express – offering the hospitality of bygone royal eras. With affordable packages, the new trains will add to the bliss of luxury train travel in India by enabling tourists to bask in the beauty of sprawling deserts and timeless heritage of India.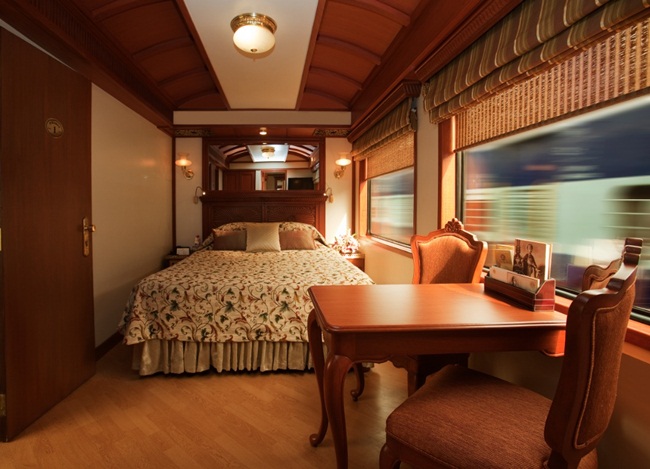 Unlike super luxury trains, the new semi-luxury trains can be afforded by many tourists. Both trains – Desert Circuit and Heritage Circuit – will depart from New Delhi for a five-day odyssey along the routes meandering through the desert of Rajasthan and crisscrossing three heritage cities. Tourists on board will be pampered over a host of deluxe services during the journey. You can enjoy sightseeing not only through window glasses of train coaches but also getting down at major sites where the trains will halt.
"Heritage Circuit" will be running through Agra, Varanasi and Khajuraho, three of the most popular heritage sites in India. What Agra is famous for is known to tourists from across the globe. The Taj Mahal, one of the wonders of the world, is a must see in Agra. The yesteryear kingdom of the Mughal emperors has many stories to tell, including how Emperor Akbar got the recipe of Petha, a most famous delicacy of Agra, during construction of the Taj Mahal.
Varanasi is the oldest and holiest city of India, where you can take boat rides on the River Ganga and glimpses of the spectacular Ganga aarti. Don't forget to explore the stories of Varanasi during your luxury train travel in India. Banarasi silk cloth, a traditional handicraft of this holy city, is a must buy.
The travel on "Heritage Circuit" will culminate at Khajuraho, a UNESCO world heritage site. Unlike the temples of Varanasi, Khajuraho temples are famous for erotic sculpture displaying human sexuality in multiple different forms from liberal perspectives. The legends of Khajuraho's erotic art will take you back to the times when eroticism was an art in India.
The 'heritage' part of the travel by two new luxury trains in India promises to be a life-enriching experience. The Taj Mahal of Agra will tell you an immortal love story, Varanasi will immerse you in spirituality, and Khajuraho will overwhelm you with stories of passion. – Indian Eagle
"Desert Circuit" will take you on a ride across sand dunes in Jaisalmer and on a tour of Jaipur in Rajasthan. Among the things to do in Jaisalmer are listening to the music of sand dunes, shopping for handcrafted silver jewellery,  and visit to historic Jaisalmer Fort.  Jaisalmer Desert Festival in February is one of the popular winter events in India.
This luxury train travel in India by "Desert Circuit" will end in Jaipur, a yesteryear princely province of Rajput kings. Hawa Mahal, Jal Mahal, City Palace, Amer Palace and Nahargarh Fort are among the must-see tourist attractions of Jaipur. A tour of Jaipur will introduce you to the luxury and bravery of Rajputs.
Other Details of New Luxury Trains in India
"Heritage Circuit" will be operating from December 20 till April 24, 2016. The luxury travel by "Desert Circuit" will commence on December 20 and continue till April 21, 2016. Each of the two new luxury trains in India will make eight trips from December to April, which is the best time to visit India. Travel on these trains is a complete luxury package including 3-star hotel accommodation and exclusive dining apart from travel insurance, complimentary Wi-Fi, and English and Hindi speaking guide service. A trip by "Desert Circuit" will cost between 20K to 37K INR, and "Heritage Circuit" will charge from 18K to 36K for a trip depending on travel classes.
Luxury train travel in India is synonymous with the maxim, "Let the Train take the Strain." Travel on these luxury trains of India will surely rejuvenate you with fresh moments, enrich you with knowledge, enchant you with offbeat stories and spellbind you with scenic sights which you will cherish forever.
Major international airlines operate flights to New Delhi from USA and Canada. We at Indian Eagle issue cheapest tickets for New Delhi flights from all American cities.