Among the NRIs who connect with India through art and culture is Ms Andree Pouliot, a business woman with creative bent of mind. She was an NRI until she visited India in order to assist her mother, fashion designer Sarah Pouliot, as a design assistant. Soon she tapped into the potential of Indian handicraft culture through artisans, printers and craftsmen. She chose Jaipur as the destination of her entrepreneurial venture, Soma Blockprints which is equally famous in India and Canada, today. Creative director and Cofounder of Somablockprints, Andree Pouliot directs art & culture tours in Jaipur and Delhi for foreigners. Indian Eagle, a leading international travel organization, catches up with her to share with you her views on women empowerment, cultural heritage of India, and her role in the promotion of Indian handicrafts. The excerpts from the interview are as follows: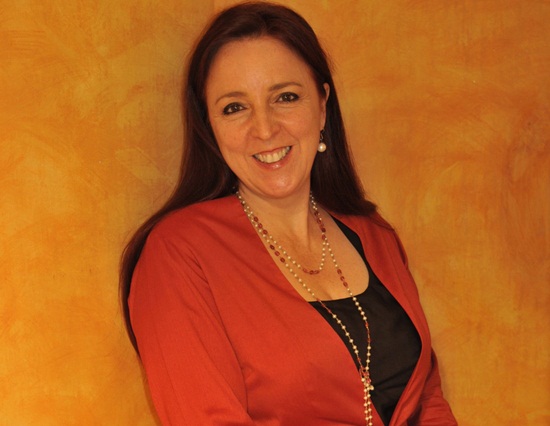 We would like to know something about your entrepreneurial venture, Soma Blockprints…
Soma Blockprints was started with youthful enthusiasm to do business in a craft both my husband and I knew and loved, handblock printing. I came to Jaipur as a young well-trained art grad and had worked as a dyer and painter in Canada's National Arts Centre, as well as having been part of my mother's fashion design and retail business. Expanding my skills to learn about blockprint and surface design was a natural process.
What challenges have you faced as a woman entrepreneur?
Working in India was much harder in the old days when men were less accepting of women in the workplace. Many a time they would bark over my head at the nearest male rather than speak to me directly. Things have improved since then, but I have noticed that to get things done, it is still helpful in business in India particularly, to have a man advocating for you when authority is needed.
Why did you choose Jaipur? Because, it is a tourist place….
We moved to Jaipur because that's where the craftsmen were! The block printers and block carvers, tailors, dyers and quilt makers were working with their hereditary craft in the Jaipur region. These artisans' ancestors settled in the region over 300 years ago. The tourism industry was helpful much later on, once we opened our Soma Blockprints retail store here.
How popular are the handicraft items in foreign countries…particularly Canada?
The international customer is deluged with purchase choices. Many, maybe most customers are looking at the price point and the fact is that handmade products of fine materials cost a bit more to produce. In Canada (and other western countries) there is a growing consumer group who are sensitive to ethical trade practice. They educate themselves, share this information and demand fairly traded, well-made products. But there is much competition in the market and good design and trendy styling are essential to create a desirable product. Particularly, if the product carries a higher price than mass-made ones. All products, handmade and otherwise are market-driven sales. Products won't sell, whether to support worthy crafts groups or not, unless they are good practical design, durable and well-made. Keep in mind that our home countries also have their own rich craft traditions and working artisans.
Working women in towns and villages rely on handicrafts for livelihood. How do you get them noticed internationally?
It is difficult to fan up much of a flame to directly assist any specific craft group in a faraway country. There are so many artisan groups competing for online attention internationally. I think that consistency of well-designed products and solid ethical practice makes any craft group more likely to succeed. That and availability in the market, where to conveniently purchase, and online information about the project. Everyone checks online for background information, this is a great advantage for remotely based women's projects.
What is your contribution to growth and promotion of handicraft as an entrepreneur?
My contribution has been to look closely at the craft in its traditional form, research and develop new ways to rework design and to introduce different materials. There has been much experimentation at Soma over the last 30 years. I love working directly with the artisans, it is an essential part of the design process. I believe that in order to help them succeed with sales, analyzing the design and materials, with a clear view of the potential market and current design trends are essential. Once there is a clear understanding of the particular craft process, a sensitive reworking of product design can be undertaken. It does not make sense to me to barge in and radically alter a handmade craft. Re-design should be introduced carefully and not as a rude imposition on the artisan, "my modern design is superior to your traditional design". I think I have succeeded as a print designer in harmonizing Indian traditional block print design with contemporary design to innovate fresh patterns that appeal to both the Indian and foreign markets. I also do a great deal of training of young designers.
How do you personally connect to the art and culture and heritage of India?
My background as an art student gave me sharp eyes and interpretation skills
I studied Indian classical dance and Hinduism. I am a huge history buff and spend my spare time studying to learn more about India. I find it extremely helpful to communicate in the language of my region. My own paintings are inspired by Indian miniature painting and techniques
I regularly take visitors around my city to share and interpret the local culture and handicraft for them. I never tire of exploring the elegance of Indian traditional design forms in all their magnificence. They speak to my heart.
Should rural tourism be encouraged to promote handicraft?
I think that the contemporary tourists want an authentic experience and they expect it to make readily available. They research everything online and want to get right in there and get their hands dirty, and have their own experience. And take a ton of pictures! Short courses in local handicraft that are manageable for the beginner are a good idea, and this will promote understanding and appreciation of village craft.
What can empower women in the cottage industry?
This is a big question! Women's groups need the obvious assistance, funds to purchase materials, a plan for their expenses and income management and to find a steady market where their finished goods will be available to the public. Child care and health support is also needed. In addition i think that design support towards innovation is important at the stage when they are ready to make product alterations to make their craft more attractive to the buyers. I admire the artisans who take the plunge and invest in new materials, have the courage to try new techniques. Women are natural communicators and inventors and have everything it takes to branch out and experiment to find the best way to work together and create handicrafts. This is already happening all over India.
Women's day special message for aspiring women entrepreneurs…
You can do it! Organize your family or group, however small, and start looking around for your market and a source of seed money. Do not rush, quality development takes time. You have a lot of company! Indian women have made huge strides in craft development businesses, and most new-generation successful craft groups are run by women. Try to find design improvement guidance to make your product something new and innovative. Find out about craft fairs where you can book a stall. Meeting your customers personally will give you the best information towards new innovation and it is also fun!
We at IndianEagle.com are committed to promoting Indian travel & tourism to the NRIs. We connect them with India and offer them the lowest airfare too.