Where is Agra? What is Agra famous for? What to see in Agra? What to do in Agra? Apart from north Indians, NRI children who may have never been to India will raise their hands to answer these questions immediately. It was the capital of the Mughal Empire. It is famous for the Taj Mahal. It is in the state of Uttar Pradesh. It is a historic city in North India. It is a tourist destination in India. What to know more about Agra is the local food culture that is a rich, spicy, snacky and sweet affair with taste buds. If you are flying to Delhi this season, visit Agra and taste the city's street food. So, "Do in Rome as Romans do".
Petha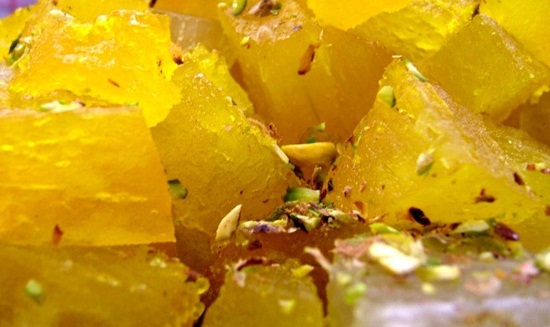 Ask Indians what they bring for their relatives and friends from Agra, most of them will say, "Agra ka Petha". Yes, Petha is an Agra special delicacy whose flavor will chase you from the city's railways stations to local markets. Made from white pumpkin or ash gourd and flavored with nuts, this north Indian sweet is found in many varieties and different shapes. Two varieties of Agra ka Petha are popular. One is dry, hard and chewy, while the other is soft and syrupy. Don't give it a miss when in Agra. Do you know Petha is as old as the Taj Mahal? Trace the origin of Petha.  
Paratha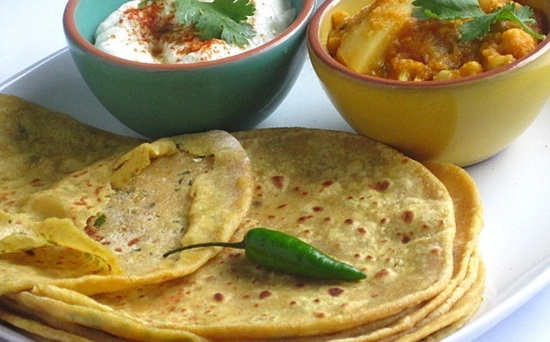 Paratha is a main dish from the Mughlai cuisine that Agra is famous for. Mostly vegetarian in the make, it is a pan-fried flat wheat bread. Stuffed with cheese, or grated carrot, or grated cauliflower, parathas will satisfy your craving for different Indian flavors. North Indians including the people of Agra start their winter days with bites of hot parathas in the morning. Parathas are served with spicy chutneys on a large round plate. Delhi claims monopoly on the dish, but it is a taste of Agra.
READ MORE Fastest Train to Agra from Delhi
Mughlai
The Mughlai dish is a souvenir of the Mughal era in India. Borrowed from the Mughal kitchen, it became the mainstay of the Agra cuisine which boasts influences of the Mughal culinary culture. The Mughlai dish mainly consists of meat curries enriched with dried fruits and flavored with ground as well as whole spices. With time rolling on, the Mughlai dishes traveled from Agra to different parts of North India. However, the Agra taste of the Mughlai food carries off the bell.
READ MORE Taj Mahotsav Festival of Agra
Dalmoth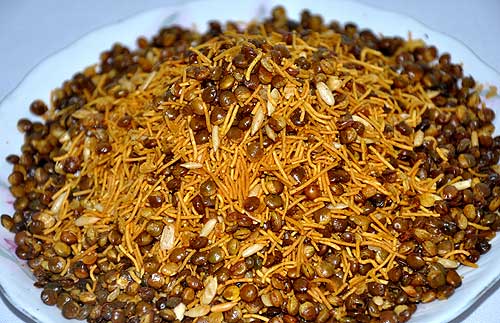 If you want to munch something crispy and crunchy with a cup of tea on winter days in Agra, you will go crazy over a snacky affair with this historic city. Agra offers Dalmoth, a tongue-teasing dry snack which is nutted, spiced and full of fried lentils. Packaged in boxed and bags, this traditional namkeen (snack) will overwhelm your taste buds with a spicy flavor. It tastes delicious with beer, too.
READ MORE Food Trails of Lucknow
Bhalla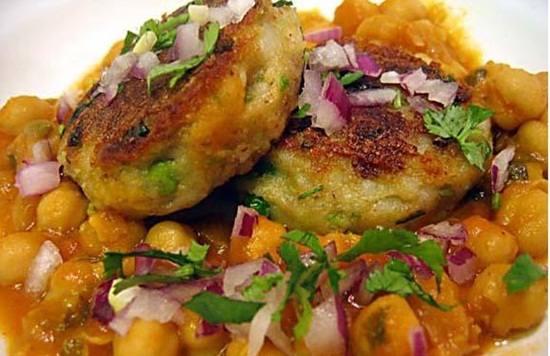 If you are fond of Delhi chaats, Agra will not let your India travel end with a note of disappointment. Besides Delhi special samosa chaat and kachori chaat, Agra has its own version – bhalla. Bhalla, a favorite of the locals and a popular street food in Agra, is known as aloo ki tikki in other parts of the country. Fried and flattened balls of spiced potato mash, and chickpea curry with chopped onion make the dish. Bhalla is a fulfilling evening delight found in the markets and lanes of Agra.
READ MORE Chef Saransh Goila's India on My Platter
Bedai & Jalebi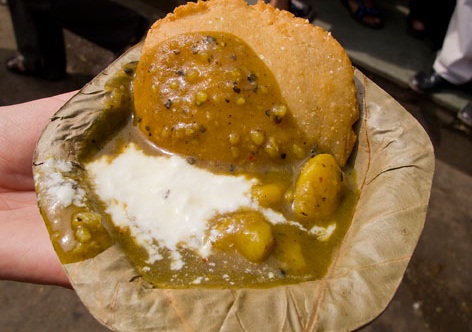 If your taste buds have a rare craving for something sweet and spicy, give a try to Bedai & Jalebi in Agra. It is a typical breakfast item for the locals. As the name goes, this Agra dish has two main parts – one is sweet and the other is snacky. Bedai is puffy bread, deep fried in oil and served with spicy potato curry. The dish is accompanied by some dollops of curd in some parts of the city. Jalebi is a much common sticky sweet, made of fermented batter and dipped in sugary syrup. These two different items make a combo breakfast to fill the stomach with in Agra.
If the Taj Mahal is beautiful, Agra food is wonderful. Agra is a 2-hour journey from New Delhi. Book your travel to Agra including the cheapest flight to New Delhi from USA at Indian Eagle.