Air India's transformation continues with new inflight menus being rolled out in all travel cabins on international flights from India to USA and other countries. The baby steps that the airline had started taking right after its comeback to the Tatas have become strides guided by CEO Campbell Wilson, such as the 470-aircraft deal, the launch of Premium Economy service, the $400-million refurbishment of outdated aircraft cabins, and now the makeover of inflight dining experience.
"CUSTOMER EXPERIENCE, an obsession with JRD Tata – the founder of Air India and the pioneer of India's civil aviation – is, once again, the focus of the airline in the current leadership regime. Air India's inflight menus for international travelers have been refreshed based on "guest feedback" and with a purpose, that is to showcase the country's "locally sourced culinary influence." The new range of gourmet meals, trendy appetizers, and decadent desserts has been designed in view of the healthy eating trend," said Sourav Agarwal, the Editor of Travel Beats.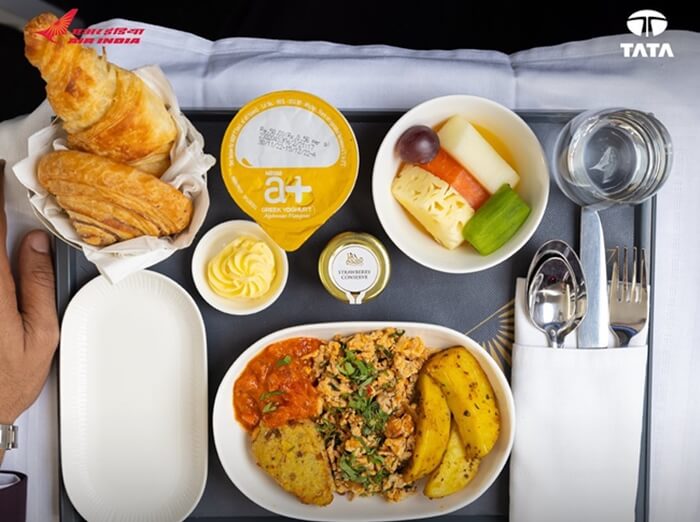 For the first time, vegan food is available aboard Air India flights to USA, Canada, London, and other offshore destinations for First and Business Class travelers. They can choose from a meticulously selected range of plant-based meal options, such as Masala Uthappam, Lemon Sevaiyan Upma, Subz Seekh Kebab, Medu Wada, and Thai Red Curry with Tofu and Vegetables. "Our underlying focus while designing the new menus was ensuring that they include nutritious, delicious, and contemporary options…" said Sandeep Verma, Air India's Head of Inflight Services.
Air India's new menus for breakfast, lunch, and dinner on board are Indian to the core with a contemporary touch. The menus featuring both fusions and classics seem to have been inspired by India's urban culinary landscape where the traditional and the contemporary coexist in harmony. The dishes are thoughtfully selected to cater to different palates and deliver an exclusive inflight dining experience to guests across all travel classes on international routes. Some of the main and light dishes are:
Turmeric Chilli Omelette, Mixed Vegetable Paratha, Mushroom Scrambled Eggs, Aachari Paneer and Emmenthal Sandwich in Multigrain Bread, Grilled Prawns in Fennel Cream Sauce, Murgh Rezala Kofta, Murgh Elaichi Korma, Classic Chilli Chicken, Chicken Chettinad Kathi Roll, Baked Fillet of Fish with Herb Almond and Garlic Crust, Masala Dal and Brown Rice Khichdi with sprouts, and Classic Tomato and Coriander Shorba with Crisp Namak Para.
There is pure indulgence for the sweet tooth too. The new menus for Air India flights between USA and India offer absolute decadence of dessert offerings to complement Indian hospitality thousands of feet above ground. The dessert section of the menus includes Mango Passionfruit Delight, Quinoa Orange Kheer, Khajur Tukda with Kesar Phirni, Espresso Almond Crumble Mousse Cake, Chum-Chum Sandwich with Blueberry Sauce, and a seasonal fruit selection.
The sophistication of flying on Air India is redefined. The new menu includes a fine wine list for travelers flying out of India. The list features wines from the most popular vineyards of Château de l'Hestrange, Les Oliviers, Chateau Milon, and Piedmont region of Northern Italy. A whole new selection of whiskey, gin, vodka, and beer of the few choicest brands has found space in the bar menu. Laurent-Perrier La Cuvée Brut champagne is the showstopper on Air India's inflight bar menu.
Travel Beats is a one-stop portal for international travel news by Indian Eagle, a most trusted travel-booking partner of Indian Diaspora in America. As an air-ticketing partner of Air India and other major airlines, IndianEagle.com offers the best fare deals across all travel classes for cheap flights between USA and India throughout the year.