The new Terminal 2 of Kempegowda International Airport, Bangalore is another big step towards achieving environmental sustainability and redefining aesthetic sensibility in Indian Aviation. All set for a grand inauguration on November 11, the new terminal is named Garden Terminal after Bengaluru City's nickname, Garden City. Landscaped like an indoor garden with green walls sprawling over 10,000 square meters, BLR Airport's Terminal 2 has a soothing ambience and offers a "walk in the garden" experience. There are artificial waterfalls and an outdoor garden sprawling around a lagoon, which liken the new BLR airport terminal to that of Singapore Changi International Airport.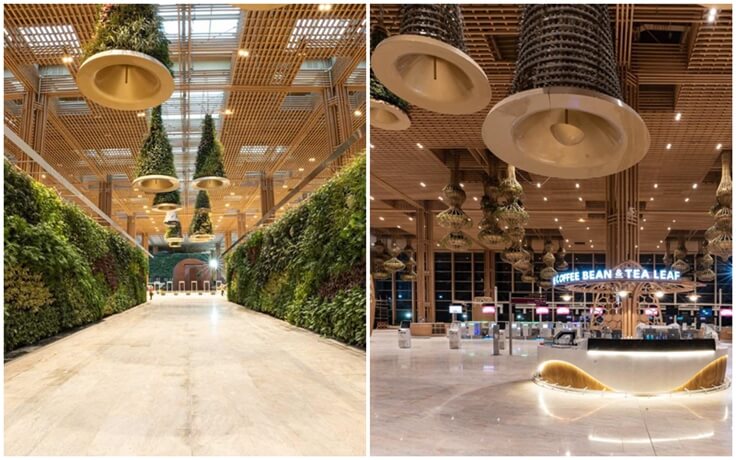 The Garden Terminal of Bangalore International Airport is being developed over an area of 2,55,645 square meters in a phased manner and for INR 5000 crore. The completion of phase 1 is expected by mid-2023. In the first phase, the new terminal can handle 25 million passengers annually, doubling the airport's current capacity of handling civil traffic to a total of 50 million per annum. Apparently, this will liken India's Silicon Valley airport to Miami International Airport, Florida; George Bush International Airport, Houston; Narita International Airport, Japan; London Gatwick Airport, and Shanghai International Airport given their pre-pandemic passenger-handling capacities.
Terminal 2, once open for international operations, will see more international flights to and from Bangalore than Terminal 1. The infrastructure of Kempegowda Airport's Garden Terminal integrates 90 check-in counters, 20 security checkpoints, 9 baggage carousels, 15 bus gates, and 60 immigration counters. India's third busiest Bangalore Airport – that is also the biggest gateway to South India for nonstop flights from USA and other countries – will have much faster immigration clearance in the near future. Evidently, the congestion-free space will let travelers breathe easy in T2 even during peak times of the year.
The Garden Terminal can be described as a bamboo paradise. The deliberate use of engineered bamboo, a highly renewable material, in designing the interior of T2 not only delivers on the airport's promise of being sustainable in the long run, but also lends a natural feel to the aesthetic beauty of the terminal. Bamboooz-Furn Bambu Pvt Ltd, a Bengaluru-based startup, put the best of engineered bamboo to use in crafting the ceilings, pillars, staircases, and seating areas. The 'bamboo' innovation harmonizes with the lush green landscape to make the terminal a visual treat.
Like Delhi IGI Airport, Kempegowda BLR Airport will equip the new Terminal 2 with 5G internet technology. Bengaluru is home to India's first smart airport with Aadhaar-enabled entry and biometric e-boarding.
A 108-feet statue of Kempe Gowda, the founder of Bengaluru City, will also be unveiled today in a 23-acre heritage park outside T2. The bronze statue featuring a 4000-kg sword has been built for INR 85 crore. Nadaprabhu Kempe Gowda, who BLR Airport is named after, was a chieftain in the erstwhile Vijayanagar Empire. He had built a mud fort in 1537, and the city of Bengaluru grew out of a settlement around the fort. Interestingly, the Kempe Gowda statue at Bangalore Airport is designed by Ram Vanji Sutar, who architected the world's tallest Statue of Unity near Ahmedabad, Gujarat.
Also Check: How to save on international travel to and from Bangalore