After twelve months full of bated breath, following the announcement of its comeback to India, Delta Airlines revealed the date to resume nonstop flights to Mumbai from USA. Starting December 22, 2019, Delta flights will directly connect New York JFK and Mumbai BOM, much to the dismay of Indians in and around Atlanta, Georgia.
Since the first announcement of Delta Airlines' return to India, it had highly been anticipated that Delta would resume its nonstop service from Atlanta to Mumbai, which was withdrawn in 2009 due to the stiff competition from the subsidized Middle East airlines. Atlanta being the headquarters of Delta Airlines was the primary reason for the anticipation.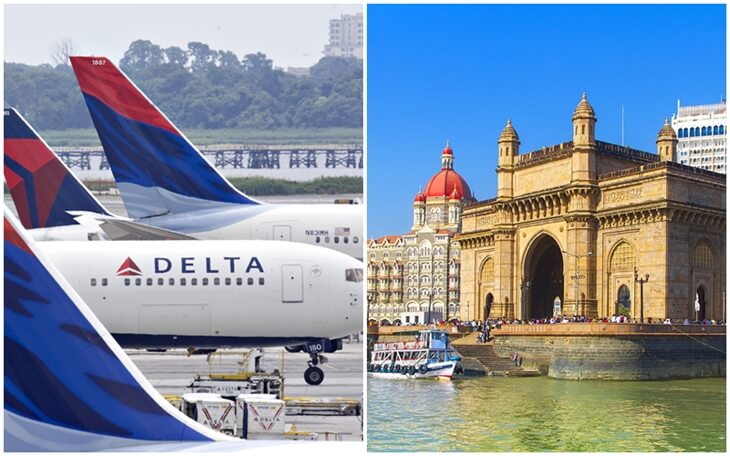 Why did Delta choose New York over Atlanta? It is simply because the New York metropolitan area is home to the largest Indian American population and seven of the wealthiest counties in the United States. In addition, the New York metropolitan area is one of the most developed economic regions in the world, just like Mumbai being the financial capital of India.
Having Yale University, Princeton University, Columbia University, New York University and Rockefeller University among the best institutes in the world, New York has the largest concentrations of Indian students in the US.
Obviously, New York to Mumbai is one of the busiest and most profitable routes between USA and India for direct air connectivity. Nonstop Delta flights from New York JFK to Mumbai are expected to boost relations between the financial capitals of two giant trade partners: the US and India.
There are nonstop flights from Newark EWR to Mumbai operated by Air India and United Airlines, but no direct service from New York to India post Delta Airlines' exit from India in 2008. Nonstop Air India flights from New York to Delhi and Newark to Mumbai had somewhat filled in the void left by Delta's departure from India, until Air India launched nonstop service from New York to Mumbai in November 2018.
"Delta's New York to Mumbai nonstop service makes the number of routes for nonstop USA-India flights ten from nine. Demand for nonstop flights from Atlanta, Los Angeles and Houston is quite high, said the chief travel economist of Indian Eagle, a leading travel organization and a trusted air-ticketing partner of Indians in the US.
Air India vs Delta Airlines: New York to Mumbai Nonstop             
No doubt, Delta and Air India will be in competition with each other on the New York JFK-Mumbai BOM route. Though both the airlines permit 2 pieces of check-in baggage for free on long-haul international flights, Delta's industry rating is better than Air India's in various areas such as seat comfort seating, inflight services, inflight entertainment, onboard food, aircraft features, loyalty program, luggage handling and brand value.
While cheap Air India fares suit the budget of family travelers for US-India travel, Delta Airlines is the first preference of corporate flyers for its exquisite travel cabins and impeccable service on board.
On seeing the response to the New York-Mumbai nonstop service, Delta may resume its nonstop service from Atlanta, which was suspended in 2008, and launch flights from its other hubs including Los Angeles and Detroit.