18-year-old Sruthi Palaniappan from the Indian American community in Cedar Rapids, Iowa, is the youngest of all delegates for Hillary Clinton at the 2016 Democratic National Convention (DNC), which has already begun in Philadelphia.
With Hillary Clinton gradually making her way to the hot seat of the US president, many young faces from among the Indians in USA are emerging to represent the Democratic Party in their respective states. Sruthi Palaniappan from Iowa is one of those budding political activists.
She was brimming with overwhelming feelings of pride when she said, "Our state (Iowa) is a state of female firsts," during her address at the convention on Tuesday. Her sentiment strongly resonated with the fans, followers and supporters of Hillary Clinton who is the first female nominee for the office of US President from a major American political party.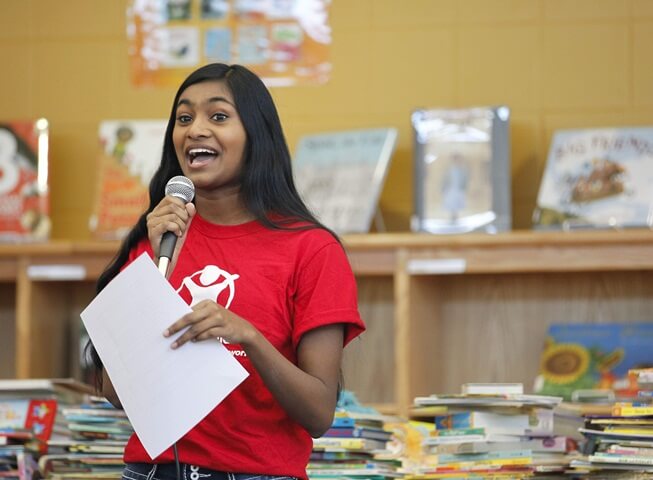 Sruthi Palaniappan, who draws inspiration from the US First Lady Michelle Obama, has been a precinct captain for Hillary Clinton in Cedar Rapids during the ongoing US presidential elections 2016. She organized volunteers to drive a campaign and garner support for the Democratic presidential candidate in Cedar Rapids. "I had a difficult time convincing those who were in two minds about whom to support," said 18-year-old Sruthi.
Sruthi Palaniappan, who is majoring in Government and minoring in global health, hit the stage in Cedar Rapids for a one-minute speech and impressed people with her stand on why she should be the state's delegate for Hillary Clinton. She believes that youngsters like her should get involved in political discourse for a better making.
Sruthi Palaniappan, whose parents shifted from India to the United States in 1992, hopes to run for office in the US government someday. She aims to campaign for free schooling as she thinks that everyone should have the right to free education, which should not be a restriction for anyone. She will attend Harvard University for four years.
She participated in the 2016 Distinguished Young Women of America competition and featured on the list of finalists for a $2,500 scholarship. She also served as the Education Chair for the State of Iowa Youth Advisory Council in the UN General Assembly in New York last year. Playing violin, singing and dancing are her hobbies.
Travel Beats is a digital news portal for Indian Diaspora by IndianEagle, a leading international travel organization for the Indian American Community. Subscribe to Travel Beats' free newsletter for the latest updates about Indians in USA and the US-India travel.