What a pleasing reason for another celebration post Diwali! 17-year-old Indian American Himanvi Panidepu won the Miss Virginia Teen USA 2018 title, much to the pleasure of Virginia Indian community. Himanvi created history by being the first Indian American to have worn the Miss Virginia Teen USA 2018 crown. Last year, Chhavi Verg was the first Indian American to have glorified the New Jersey Indian community with the Miss New Jersey USA 2017 title.
Himanvi Panidepu proved, "Beauty is only skin deep," by breaking all taboos about dark complexion and defying generations' obsession with fair skin.  A student of Centreville High School in Clifton, VA, she beat out 39 other contestants and bagged the Miss Virginia Teen USA 2018 title at the Tidewater Community College Roper Theater in Downtown Norfolk.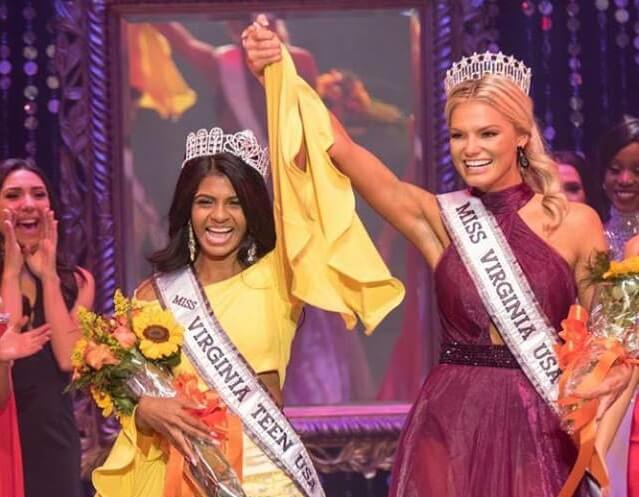 A Virginia Indian beauty, Himanvi Panidepu is a staunch advocate for mental health in and out of her community. She also works for drug and alcohol awareness in Virginia. Through the beauty pageant's association with Best Buddies International, she will advocate the welfare of differently abled children and adults with special needs. She will also take other good causes to the next level as a representative of Virginia in the Miss Teen USA 2018 pageant.
Also Check: Tirupati to Operate Direct International Flights for NRIs to Tirumala
The Miss Virginia Teen USA 2018, Himani Panipedu took to Instagram and bared her heart filled with joy. She expressed her thankfulness to those who have been part of her journey to the Miss Virginia USA pageant. She thanked her parents, friends, teachers, her stylist, her dresser and her coach. She owed her achievement to whoever motivated her and helped her win the most coveted crown.
"I'm still in shock about tonight! This is truly a dream come true. I am so humbled and honored to be representing the state of Virginia! I'm so excited for all the experiences and opportunities that are in store for me this year… I am so ecstatic about this amazing opportunity to make a difference and represent my state this year. I can't wait to work with the amazing Miss Virginia USA team and sponsors. I have really big shoes to fill. Now let the year begin."

This story is part of our continued effort at Indian Eagle to give a shout out to the achievements of young Indians in USA and the rest of the world. We not only strive to make US to India airline tickets cheaper but also cater inspiring stories, community news, and travel updates to Indian Americans through our free newsletters.