A seafood recipe earned a 9-year old Indian American girl a whopping prize worth $45,000 in Ben's Beginners Cooking Contest. Jasmy Mavilla of Indian origin from Lawrence, Kansas, grabbed the most coveted prize for her recipe of shrimp masala rice. She along with her mother Sowjanya Seetla is one of the five winners of the cooking contest.
Jasmy Mavilla's effort of cooking shrimp masala rice is rewarded with a cash prize worth $15,000, a $30K school cafeteria makeover and a hometown celebration with brand representatives and other officials of UNCLE BEN'S. Currently, she is a 4th grader at Raintree Montessori School in Lawrence.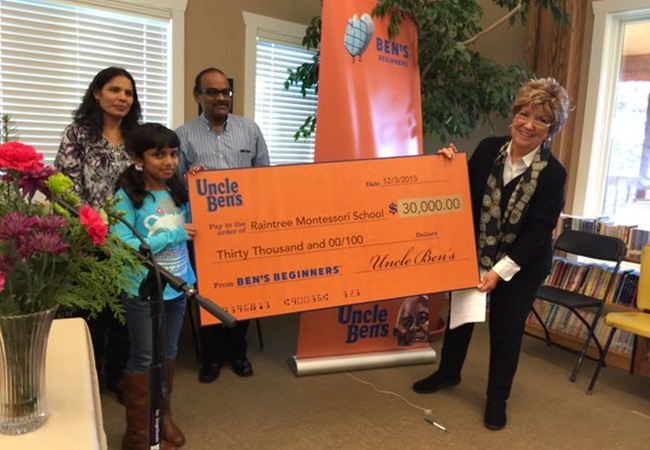 The Ben's Beginners Cooking Contest is one of the most popular events in the USA. For four consecutive years, it has been encouraging children and their parents to eat healthy and live healthy by inspiring them to come up with healthier recipes. The Ben's Beginners Cooking Contest is designed to make young children develop healthy eating habits and connect them with their parents in the kitchen. Mars Food North America is the UNCLE BEN'S brand.
"Learning to cook healthier meals at a young age is as important as it is to learn reading and writing," said McCauley, Vice President of Corporate Affairs at Mars Food North America. If child is believed to be the father of mankind, children should be nourished with good food for mental wellbeing and physical development. The Ben's Beginners Cooking Contest is also aimed to bring families together. It helps young participants know the power of cooking over eating unhealthy outside their homes," added McCauley.
Indian American Jasmy Mavilla from Kansas is one of the 25 finalists among hundreds of participants at different levels from kindergarten to eighth grade from the United States. The entrants submitted videos demonstrating their creative methods of cooking healthy meals with parents. Such 25 videos were shortlisted for the grand finale.
Mavilla's mother shared that Jasmy developed a passion for cooking when she was only 4 years old and that the shrimp rice recipe which earned her fame in the culinary world is inspired by the flavors of India where her parents were born and brought up. "All of the vegetables used in the dish were grown in our garden as Jasmy is fond of organic gardening. She never hesitates to encourage our neighbors to cook healthy meals at home," shared Sowjanya Seetla jubilantly.
Since the tender age of 4, Mavilla has been honing her cooking skills. Watching her elder sister and mother making different dishes at home piqued her interest in cooking. A plateful of scrambled eggs was what she cooked herself first. Macaroon, crepes and lemon meringue pie are some of her favorite recipes in the repertoire that she has enriched since then.
Jasmy Mavilla wishes to be a chef and practice philanthropy as well. That's why she will donate a part of the $15,000 to UNICEF. She will donate $30,000 out of her prize money for upgrading of the school kitchen. Her contribution will be utilized to expand the school's kitchen and equip it with modern appliances.
The Ben's Beginners Cooking Contest is not Mavilla's first experience. Last year, she contested with more than 1500 children for the "Healthy Lunchtime Challenge," a part of the US First Lady Michelle Obama's initiative "Let's Move." Her recipe of Tangy Veggy Springetty won the contest, which earned her invitation to the White House.
Travel Beats is a culture and entertainment portal for Indian diaspora by IndianEagle, a leading international travel organization. It publishes the latest news and stories about India, USA, Canada and NRIs.